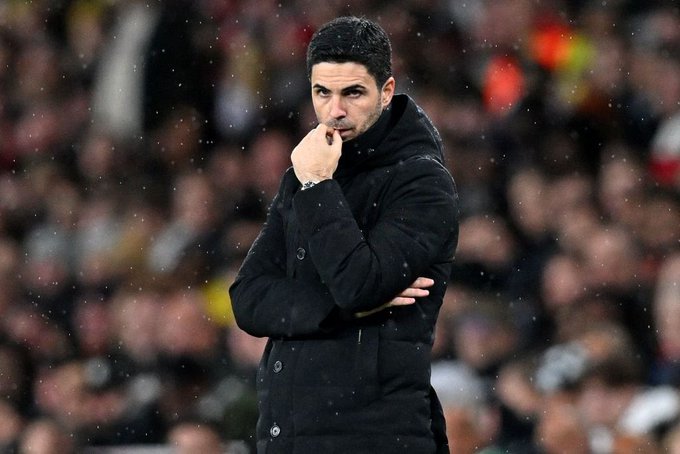 Mikel Arteta has fired back at claims Arsenal have benefitted from a flawless injury record this campaign by running through the setbacks his team have faced.
Earlier this week, Erik ten Hag said Arsenal had been fortunate with their injury record this season.




The Gunners have enjoyed a good campaign, moving five points clear at the top of the league, although they were eliminated out of the Europa League by Sporting Lisbon on Thursday.
Asked about United's injury issues after their Europa League win over Real Betis, Ten Hag said: 'I think until now we've only had one game where the whole squad was available.
'We had only one game like that. That was the only time. When you see all season we have had some setbacks, every time we've dealt with it.
'We have to deal with it well but Arsenal, almost all the time their squad is totally available.'




Arteta was keen to set the record straight after Arsenal's Europa League exit and says the Premier League leaders have 'dealt with' various injury problems this season.
'We've been carrying injuries throughout the season,' the Gunners boss said.




'We had Emile [Smith Rowe] out for four months, Gabriel Jesus out for four months, Alex [Zinchenko] for two and half months, Thomas [Partey] for a month and a half, Eddie [Nketiah] for a month and a half.
'We had quite a lot of injuries already, but we dealt with that.'
Arteta said Arsenal's Europa League exit was a 'huge blow' but said it brings some 'clarity', allowing them to focus on their Premier League title challenge.

'The disappointment is not going to go away, the disappointment is there now but it brings clarity,' he added.
'There are 11 games to play now, 11 Premier League games and we have a final against Crystal Palace.
'We have to recover all the energy there and put our focus there and play better than we did today. Put the same effort as today and win.'