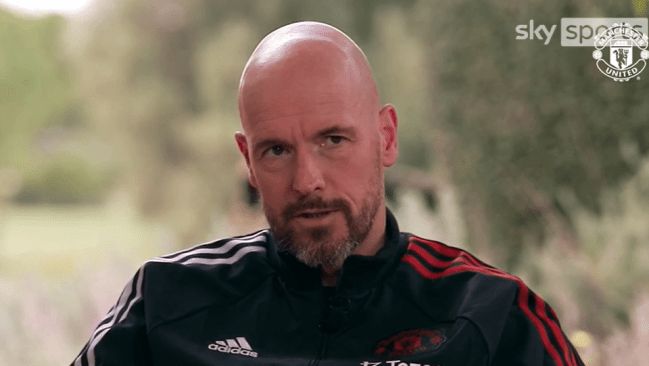 Manchester United head coach Erik ten Hag accused his players of only giving 90% during the team's 2-2 draw with Tottenham.
United threw away a two-goal lead in north London, despite goals from Marcus Rashford and Jadon Sancho in the first half of the huge clash.




The Red Devils had complete control of the game against a Spurs team lacking confidence after their 6-1 defeat to Newcastle on Sunday.
But, the side's second half performance was poor and United gave up big chances to Eric Dier and Heung-Min Son before the South Korean and Pedro Porro scored to get a draw.
Click here to join our WhatsApp Community or send a message to +2348023894548
And though the Dutchman says a point was a good result, he claims his players were not fully committed.
'Before, I would be happy with a point,' Ten Hag said. 'And you see first half, although I don't think we played that brilliant, we had complete control.

'We had an overload in midfield, we used that very well, especially switching from right to left, we used that overload to score both goals.
'But, to be honest, before 2-0 they had a big chance to make it 1-1 and before that on our right side we conceded some counters and we were not good in positioning. Also, already before half time, we were not playing that well.

'After half time, there was a difference because we were not secure. Then you have to go into the fight and when you lose your battles, you don't go to crosses, you don't squeeze out, you don't close shots, you concede goals and that's what happened. Finally, you can be finally satisfied to take your point.
'We have the worst schedule in the Premier League and it will not change, so we have to take that but it cannot be an excuse. The time is enough to recover so our players are in demand to be ready and today we were not ready.
'Some thought 90% was enough, we lost focus, that's why we gave balls away, we didn't do our jobs in positioning and you concede goals. It was the case with both goals, but more you lose control of the game.
'You have to bring it every time, although I know they are not robots. It's a tough schedule, but it can't be, we can't accept, when you are playing for Man United and wearing the shirt then you have to give it on every occasion, every game. As a team, you have to get the win, then everyone is happy and satisfied.
'You have to prepare as a player, then you are ready for a battle and for a fight.'