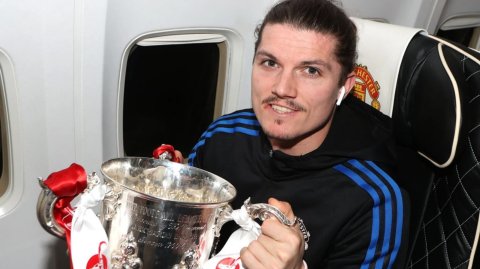 Manchester United head coach Erik ten Hag conceded he needs more time before deciding on a permanent transfer move for Marcel Sabitzer.
The 28-year-old arrived at Old Trafford on loan from Bayern Munich in January as cover for the injured Christian Eriksen.




Sabitzer had played five games for Erik ten Hag's team so far and United's hierarchy are said to be considering turning his loan move into a permanent one.
Bayern are only looking to recoup around €15m (£13m) if they sell him in the summer window and the player's agent has hinted that Sabitzer is keen on the transfer.




But Ten Hag is not rushing a move for Sabitzer yet and hinted that he will wait until the summer to decide on both his future and the future of Weghorst, who also arrived on loan in January.
When quizzed about both players, Ten Hag said: 'I think it is much too quick [to decide]. [It is] much too soon to talk about that.
'First, we are in this season and that is where the focus has to be. No distractions for what is coming next season.
'Only the season we are in. We are in the right position at this moment, this is the position we want to be as we are now competing in three [competitions].'




Ten Hag also played down Manchester United's chances of achieving a quadruple this campaign after their win in the Carabao Cup final on Sunday in what was the club's first trophy in six years.
The Red Devils are currently competing in the FA Cup – with a fifth-round clash against West Ham on Wednesday – as well as the UEFA Europa League, facing Real Betis in the last 16.




'That (talk of a quadruple) is too far ahead,' Ten Hag added. 'We have to focus on the next game.
'That is the only thing we do, and for us, we are now talking about the Premier League, but I didn't hear the word West Ham United.
'This is the press conference for West Ham United, so it is only about that. That is all we have to talk about.
'We don't have to talk about trophies, we can talk about West Ham United because that is the game tomorrow.'