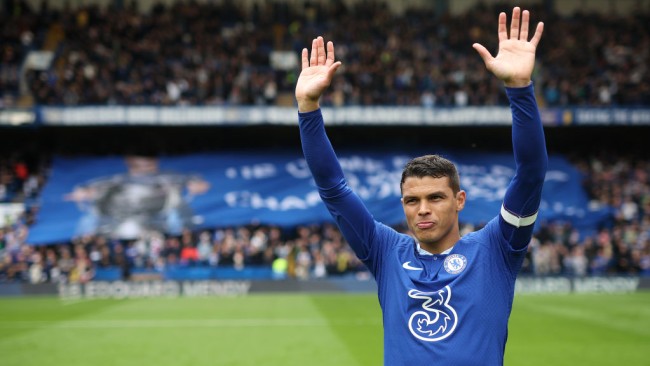 Thiago Silva has fired back at claims he wants to leave Chelsea and return to Fluminense and says he will see out the next year of his contract with the club.
The 38-year-old, who recently signed a one-year extension in February, has been linked with a return to Fluminense – the club where he revived his career in 2006 after contracting tuberculosis at Dynamo Moscow.

But Silva has now rubbished claims he will speak to Chelsea about leaving Stamford Bridge a year early, though he remains keen to finish his career back in Rio de Janeiro at the end.
Speaking to ESPN Brasil after Saturday's 2-2 draw with Nottingham Forest, Thiago Silva said: 'I have a contract here, right?




'It's strange, because several things have come out [in the media] and fans become very passionate. Some curse me on social media, others say "Come soon" and some say "If you don't come now, don't come at all".
'It's even boring for me. It's been only two months since I renewed with Chelsea, if I'm not mistaken, and I've always fulfilled my contracts.
'I only won't stay here if Chelsea decide they don't want me for next season, or if the new coach arrives and doesn't want me to stay.
'I intend to fulfil the contract that I signed until next year and then, next year, we'll see what happens.'

On whether he has had any contact with Fluminense recently, he added: 'I've always followed them since I left, I've always stayed very close. Every time I'm on vacation I go there, I do my training there. I have several friends there.
'There are many messages getting sent, saying "Come back soon". There is great anxiety from them, especially when things are coming out in the press, some untruths.

'I even said to my wife, "I don't know what meeting they're talking about claiming I'm close to a return" – there's nothing!
'I spoke with [Fluminense president] Mario [Bittencourt] yes, in January. I spoke with Mario and [director of sports planning] Fred, I spoke about my position and my desires.
'After that meeting, I still signed my renewal with Chelsea. In fact, that's exactly what was said at the meeting, that, after another year, there would certainly be a desire to return. And not just to end my career there, but to add something.'
Silva's wife, Belle, echoed her husband's message with a social media post from Stamford Bridge, saying: 'Guys, I want to thank everyone who came to me for a hug, for a song, "Oh Thiago Silva!"
'Thanks so much. We, my family, my husband, my children and me, we are very, very happy here in London, in Chelsea. So my family and I are Blue, are Chelsea and we stay here. Go Blues!'