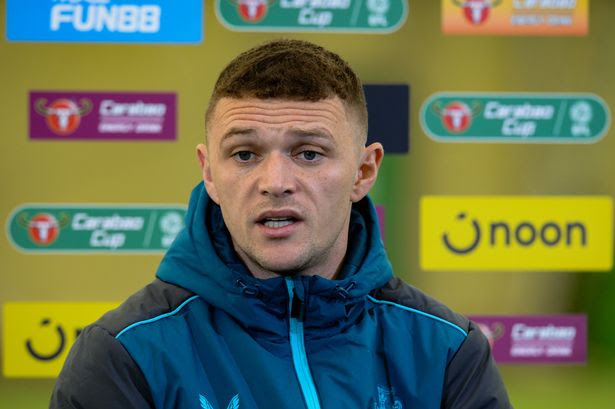 Newcastle United defender Kieran Trippier has told Manchester United manager Erik ten Hag that their 'annoying' tactic will return in Sunday's Carabao Cup final.
Newcastle have not won a major trophy since 1955 but have a chance as Eddie Howe's side take on the Red Devils at Wembley.




Ten Hag recently slammed 'annoying' Newcastle tactic, which Trippier has now responded to ahead of the showdown.
'It is an annoying team to play against so we have to find a way to play against them,' Ten Hag said. 'They try to annoy you.'




When asked if it was Newcastle's time-wasting tactics that annoyed him, Ten Hag said: 'For instance, if you see from the FA, the referees want to play an effective time.
'They have the lowest in the league [time when the ball is in play] and they are quite successful with it.
'So it's up to us that we get speed in the game and we are also then dependent on the refereeing as well.'
Responding to the United manager's comments, Trippier said: 'Some teams haven't been happy with us this season – but it's about being clever and using your experience.



'And I'll be honest with you – I love it. Opposition fans aren't going to like it, but as a neutral I think it's good to see. I really don't see why everyone's kicking off about it!
'We've shown that we will do everything we can to win a football match. 'You've got to have that mentality if you want to win and be successful.




'Everyone is entitled to their own opinion but personally I have experienced it a lot in Spain.
'You have to manage the game. It's about being clever. If you want to win, if you want to be successful, you have to be in every single game.'