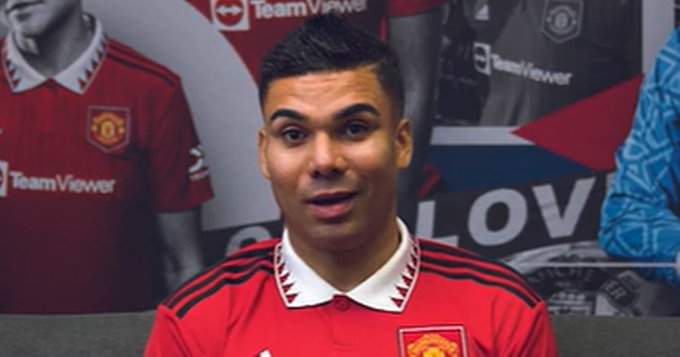 Casemiro shares dressing room with some of the best players in the Premier League at Manchester United but names one player stands out from the rest.
The midfielder is loving his time at Old Trafford, having joined the Premier League club from Real Madrid last summer.




Casemiro won five Champions League trophies and three La Liga titles at Santiago Bernabeu and says he wants to lift more silverware at United.
That does not appear to be an unrealistic goal with Casemiro helping to transform the club into title challengers this campaign.
The Red Devils only finished sixth last season – 35 points behind Manchester City – but are currently just five points off Premier League leaders Arsenal.
United's superb league form has been matched in cup competitions with Erik ten Hag's side booking a place in the EFL Cup final, just three days after they knocked Barcelona out of the UEFA Europa League.




Casemiro wants to get his hands on more trophies before the end of the campaign and says the presence of Bruno Fernandes – who he describes as the 'best player' at Old Trafford – will stand United in good stead.
'Before coming to Manchester United, I'd turn on the TV and watch their games… and he was the best player,' Casemiro said of Fernandes.




'He's one of the guys that helps up front and midfield, he is part of that transition. He's our best player there.'
Fernandes has been one of United's key players since joining from Sporting Lisbon in January 2020, scoring 57 goals in 163 games for the Red Devils.
Casemiro, meanwhile, says he 'wants to be known' as a title winner at Old Trafford, having won a number of trophies during his spell at Real Madrid.
'That's the most important thing,' the Brazilian said. 'Regardless if we win or not, because we know it's hard to win titles, especially the Premier League, where all games are tough.
'But I want to win titles and important games here. It's not easy. We know that. Especially because we're talking about the most difficult league in the world. But that's what I want to be known for.'
Casemiro also revealed the differences between the Premier League and La Liga, telling Manchester United's official website: 'Well, honestly, it's different.
'Especially because of the different circumstances, like the intensity of the games here. I'm not trying to underestimate La Liga, but the games here are much more difficult, there's a higher number of transitions.
'In Spain, they usually prefer tiki-taka football as they call it there. Here there are more transitions, more attacking moves.
'Each league has its own qualities and traits. I know each has its own traits and I respect both [leagues]. But the most important thing is for players to adapt as quickly as possible.'