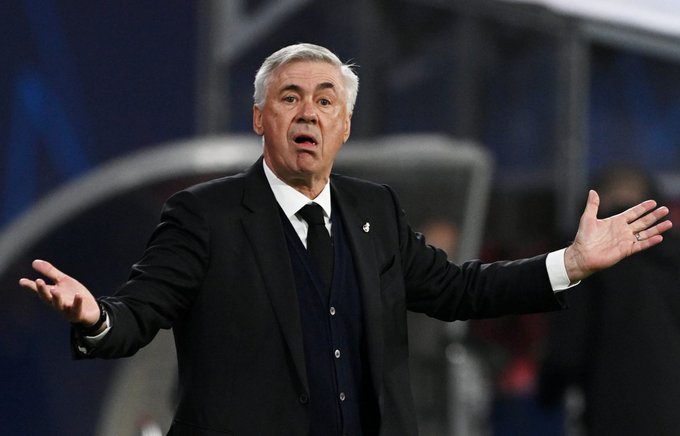 Carlo Ancelotti has criticised Barcelona's tactics and said that they didn't deserve to beat Real Madrid 1-0 in the Copa del Rey semi-final first leg.
An own-goal from Nacho in the first half gives Barcelona an advantage over their arch-rivals going into round two, as Xavi's side produced a good defensive display to grind out a win.




Real Madrid dominated possession but failed to register a shot on target in a home match for the first time since 2010.
Xavi's decision to compromise his style of free-flowing football paid off and left Ancelotti feeling shocked.




"It's been a bit strange to see them play like this," the Italian coach said of Barcelona's conservative approach. "But they have been very solid, they have a collective commitment and they have closed all the lines very well.
"Having to attack them with crosses is not the best thing to do, as I said before. And they have led us to that."
Asked if Barca deserved the victory, Ancelotti said: "No, it's pretty obvious. There have hardly been any occasions [for them to score]. I think it's been one of our best games defensively all season."
Xavi was proud of the shift that his players put in. "I'm happy for the work [done], [the] solidity in defense, [how] we minimised Real Madrid in their stadium," the Barca manager said.




"The match was difficult. The victory is tremendous. [But] we weren't able to retain the ball, it was difficult for us to win duels in Madrid's half.
"We defended well without the ball. We fought well without the ball. People are supportive. I am satisfied, but we have to improve how we play with the ball; we cannot give dominance to the opposition. I'm satisfied with the result and not so much with the game."




Xavi added: "This is not the game we want. We want to create more scoring chances. There are times when the opponent can dominate you.
"The plan was different, to dominate in the opposition's half. To defend with the ball, but today we couldn't. We weren't neat with the ball, but Madrid didn't have clear chances. It's a very important win for us."