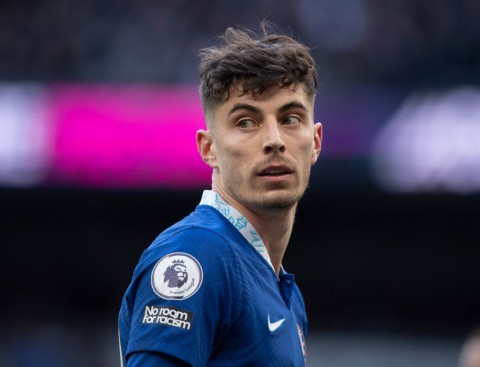 Kai Havertz's impending transfer from Chelsea to Arsenal could cause issues in north London with Eddie Nketiah reportedly 'unsettled' by the signing.
Arsenal are closing in on a £65m deal for the Germany international, who is likely to provide cover & competition in attack as well as offering a more option in one of Mikel Arteta's advanced midfielder roles.




Havertz mainly played as a centre-forward or false nine for Chelsea last campaign, scoring eight times in 30 starts in all competitions in that role.
He played as a number 10 at previous club Bayer Leverkusen and generally lines up as an advanced, attacking midfielder for Germany behind a striker.

With so much versatility, and with Arsenal ready to pay such a fee, Havertz is likely to play a huge role at the Emirates next season – though that may not be good news for one of his soon-to-be team-mates.
According to The Sun, Nketiah is worried that Arsenal's decision to invest in another attacker will mean he falls down the pecking order.
The 24-year-old played a key – if limited – role for the Gunners last season, particularly while Gabriel Jesus was sidelined after the World Cup in Qatar.
He scored four goals in the Premier League from just nine starts, scoring five more times across the FA Cup, UEFA Europa League & Carabao Cup.

Over the past two years, Nketiah has been a reliable backup striker but The Sun claims he does not want to continue in such a reduced role – and fears his pitch time could be more limited after Havertz's arrival.
With Arsenal back in the Champions League, his starts could be limited to only domestic cup competitions but he wants to be playing week in, week out.
Nketiah is now questioning his future at the club and is conscious of growing interest in him from other Premier League teams.
Crystal Palace and West Ham United are both keen but Arsenal are not keen to sell a player who has been a very dependable part of the team under Arteta, and the striker may need to force a move.
Nketiah believes he is capable of being a 20-goal-a-season striker in the Premier League but needs to play consistently to prove it.
Arteta rates the forward highly and does not feel Havertz – who is capable of playing the Granit Xhaka role in midfield – is a threat to Nketiah's game time, while he could utilise other formations and play with two up top more often next season to provide more chances for his attackers.