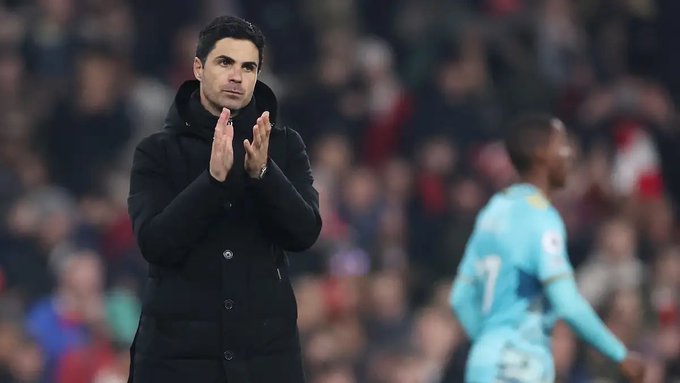 Mikel Arteta claims he is ready to "kill" any of his players who are intimidated by the big title clash at Manchester City,
Arteta is convinced Arsenal can pull off a huge result at the Etihad and says his squad are ready for the biggest game of their campaign.




It has become a title shoot-out as Arsenal need a win to regain control of the league title race to win the Premier League and has no doubts about his players despite their recent issues.
When asked whether there was any danger of his players being inhibited at Man City, the Arsenal manager said: "No. And if they do, I will just say: 'I will kill them.' And I don't want that at all."
Arteta has seen his players drop points after being held by Liverpool, West Ham United and Southampton in their last three matches which has given the edge to City.
But despite the challenge of winning at the reigning champions, Arteta says his players will relish the chance and always knew the going would get tough.

Arteta said: "Yeah, it's going to be a tough night and challenge but the opportunity is incredible for us. We knew from the beginning, if you want to win a Premier League, you have to go to Spurs and beat them. You have to go to Chelsea and you have to beat them.
"You have to go away from home and win. This is what we've been doing. This is why we're here. Now you have to go to City and you have to beat them. If you want to be champions you have to win those matches. It's as simple as that."

Meanwhile, the Gunners expect to have Granit Xhaka back after illness but William Saliba has been ruled out of at least the next two matches.