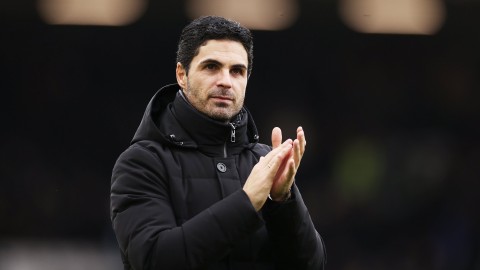 Mikel Arteta has brushed aside Pep Guardiola's mind games and says Arsenal are only focusing on taking each day as they come, while he was delighted with Gabriel Jesus return.
The London side got a win over Fulham on Sunday in a ruthless first-half performance at Craven Cottage, with Trossard setting up each of Gabriel Magalhaes, Martinelli and Odegaard en route to a comfortable 3-0 win.




Meanwhile, Manchester City scrapped past Crystal Palace through a penalty from Erling Haaland and after the game Guardiola claimed Arsenal were still favourites for the title in part due to how hungry they are to end their Premier League drought.
Arteta has repeatedly played down the title talk and is still focused on taking each training session and match on a day-by-day basis.
When asked about Guardiola's comments, and whether it is a positive or a negative that Man City are putting pressure on Arsenal – Arteta said: 'I don't know.
'We just discuss what we discuss internally: to be really humble, to work on the next training session and try to be better every day.




'This is our focus. There is still a huge part of the season to be completed.'
On Arsenal supporters chanting about winning the league, Arteta added: 'I would be singing with them to support the team, that's for sure! They've been exceptional.




'The amount of people we had coming here, their attitude, their passion, the energy that they're putting in is incredible. And we're going to need that and that's a game-changer for us, so thank you!'
Reflecting on Fulham win, he added: 'Really happy. Really tough place to come and a really well organised team.
'I think we dominated the game, we created so many chances, we kept a clean sheet – which was really important – and we won the game in a convincing way, so really happy.'
Asked about Gabriel Jesus return, he replied: 'Big boost. First step today, and we didn't know if it was the right game for him today. A few days ago he said to me, "I'm still missing something".

'Yesterday I looked at him in his eyes and he said, "I'm ready". So I said, "Okay". So then we had the opportunity to throw him in, which is the first step to giving him that boost. He looked free, he generated two big chances straight away and it's great to have him back.'