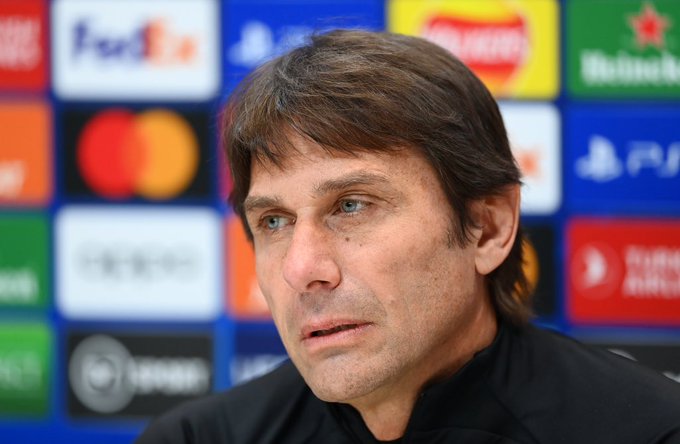 Antonio Conte says Manchester United have secured a top-three finish in the Premier League, while he has backed Chelsea to mount a surprise challenge for a top-four place.
With Arsenal and Man City involved in the title race and Man United continuing to impress under Erik ten Hag, Tottenham boss Conte believes there is only one Champions League spot up for grabs.




Spurs occupy the final top-four position and moved six points ahead of Liverpool on Saturday after beating Nottingham Forest 3-1, shortly after the Reds suffered a defeat to Bournemouth.
Newcastle United are now seven points behind Tottenham with two matches in hand, while Brighton would move level with Tottenham if they won their three games in hand.
The Blues have endured a disappointing campaign but secured their third win in a row on Saturday to stay 11 points behind Tottenham with a game in hand.
'We know very well the race for a place in Champions League will be really, really tough. You see the competitors,' Conte said after Spurs beat Forest thanks to Harry Kane's double and a Son Heung-min goal.




'You see there are many, many teams involved and I think in this moment there is only one place available because Man City and Arsenal are fighting to win the Premier League and Man United I think are showing they have great continuity of good results.
'I think there is one place and there are many teams, many important teams that are in this race.




'We have to try to do our best and for sure I repeat for us to finish in the top four is like to win the Premier League. It happen last season and I spoke about miracle.
'I continue to say maybe this season it be much more difficult, much more difficult because Liverpool is a competitor in this race.
'Newcastle is a competitor and Newcastle is a different Newcastle to the past. They invest a lot of money and they have a strong team.
'You see Chelsea and what happened there and their position, but I don't consider Chelsea outside [the top-four race]. They have the possibility to win the last 11 or 12 games in a row because the squad is really, really strong.




'But we need to think about ourselves. A top club looks at themselves, not to other results.
'We have to be focused on our path and to try to do our best until the end of the season and then we see which is the position we are able to achieve.'