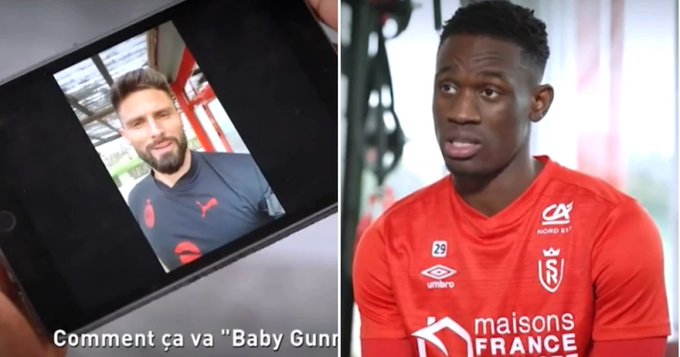 Olivier Giroud has sent a surprise message to Folarin Balogun after the Arsenal star's impressive campaign at Reims.
The 21-year-old has played 10 first-team games for the Gunners but was allowed to join the Ligue 1 club on loan last summer in order to get regular playing time.




Balogun has been outstanding at Reims, scoring 15 goals in Ligue 1 already this season, which is only four fewer than Kylian Mbappe.
Giroud, meanwhile, swapped Arsenal for Chelsea by the time Balogun made his first-team breakthrough but the Frenchman insists he remembers watching his fellow striker during youth-team games for the Gunners.
In his video message to Balogun which was shown on Canal+, Giroud said: 'Yo, what's up, baby Gunner? I hope you are good.
'I am glad to see you banging goals in Ligue 1 in France.




'I remember you when you played for the youth teams in Arsenal. I am very happy for you and you deserve to be there.
'Carry on like that. Keep it up. Wish you all the best, bro. Take care.'
After watching the video, Balogun said: 'Wow, it's very nice to see this. I didn't expect to see this.
'It's good. He has played at the highest levels in Europe. 'There are not a lot of top strikers like Giroud. When I look at Giroud, I look at to his link-up play.'