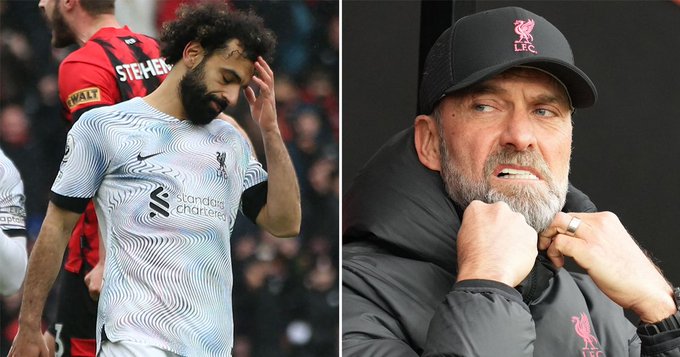 Jurgen Klopp said Liverpool's lack of penalties in the Premier League this campaign contributed to Mohamed Salah's missed spot kick at Bournemouth.
The Reds fell to a 1-0 defeat on Saturday, less than a week on from beating Manchester United 7-0 on a frustrating afternoon on the coast.




Virgil van Dijk was at fault as their opponent took the lead after 28 minutes through Philip Billings with Liverpool struggling to find their way back into the game.
They were given hope in the 68th minute when Adam Smith blocked Jota's header with his arm, with the referee pointing to the spot after a VAR check.
Salah stepped up but blasted his effort over the bar and into the Vitality Stadium stands as the Cherries held onto a key three points.
The missed spot kick was the first Liverpool have been awarded in the league this campaign, having last received one in April 2022.




Speaking to BT Sport post-match, Klopp suggested that wait was a factor in Salah skying one from the spot.
Klopp said: 'The last penalty we got, I don't know when it was, in the league at least, it was long ago. It's obviously… yep.




'It's completely hypothetical if we score there the game could turn but it doesn't make the performance better but it could change the result at least. That's it. He scores a lot of goals but missed a penalty but that's life.
Joe Cole was left mystified by Salah's penalty miss having watched the Egyptian star torment United at Anfield last Sunday.
'It's so unusual (for him) especially after what he did last week, he'd be brimming with confidence,' Cole said.
'If anything he's gone too high with it, he's gone to put that right in the old school stanchion. He didn't need that, the goalie's gone, it's just so unusual for a player of his quality to miss penalties.
'That just summed up Liverpool's day maybe a mentality problem and against the smaller clubs.'