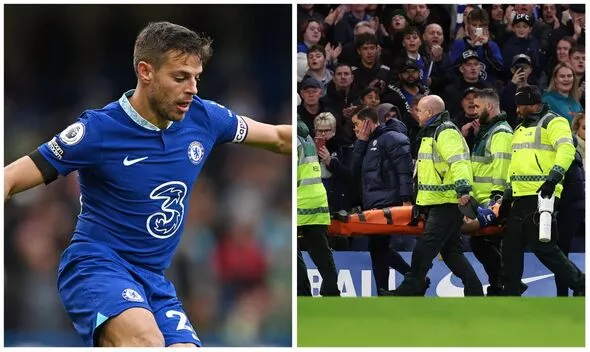 Graham Potter has confirmed that Cesar Azpilicueta is conscious and talking to his wife after being transferred to hospital after a worrying head injury on Saturday against Southampton.
Azpilicueta was given oxygen and taken off on a stretcher after sustaining a kick to the head. The Chelsea captain was trying to head clear a ball as Southampton star Sekou Mara attempted an overhead kick, resulting in a nasty injury.




The match was delayed for 10 minutes while the Chelsea medics attended to him. He was replaced by Chalobah but reassured fans by responding to their round of applause with clapping of his own as he was taken off the pitch.
Potter has confirmed that the Spanish defender is now in hospital but is conscious – which will be good news for the Chelsea faithful.




While speaking in his post-match press conference, Potter said: "He's in hospital.
"He's conscious and was speaking to his wife. We were obviously really concerned when it first happened. I think he was unconscious to begin with. It was worrying. A horrible incident."
Elsewhere, Ward-Prowse was quick to give his thoughts to his opposite number despite what was a remarkable afternoon for Southampton at Stamford Bridge.
Speaking to BBC Sport, he said: "The game was obviously overshadowed a bit by the injury to Cesar and we wish our best to him. We hope he is OK."




Chelsea will hope that they are not without the services of their captain for too long because of the hectic fixture schedule that they are set to face over the coming weeks.
They are next back in action against big London rivals Tottenham next weekend before a game with struggling Leeds at Stamford Bridge.