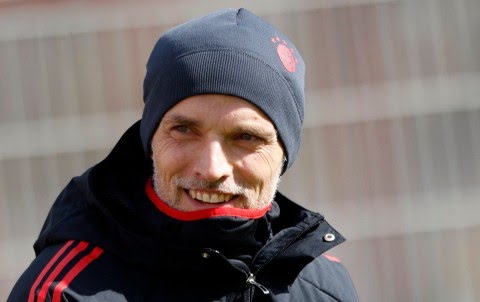 Chelsea are 'disappointed' with Thomas Tuchel after he went public with his desire to add Anthony Barry to his Bayern Munich coaching staff.
The German manager's return to management was confirmed last week after the Bundesliga club took the ruthless and shocking decision to part company with Julian Nagelsmann.




Tuchel has been out of work since his exit from Chelsea in September after the near total breakdown in his relationship with Todd Boehly.
The 49-year-old had been keen on working in the Premier League again, with Spurs interested in hiring him, but the lure of Bayern Munich proved impossible to resist.
Tuchel worked with Barry during their time together in London and he is keen to be reunited with a coach who is combining his work at Chelsea with the Portugal national team.
Speaking at a press conference on Saturday, Tuchel said: 'My coaching staff wasn't prepared either, so a big thank you to their families for their flexibility.

'Arno Michels and Zsolt Low, who have been working with me for over ten years, will be there. We're hoping to add Anthony Barry, who is currently at Chelsea.'
According to the Daily Telegraph, Chelsea were upset with their former manager for confirming his intention to prise Barry from Graham Potter.




Bayern are now believed to have offered a compensation package but it is reported to fall considerably short of Chelsea's valuation and Barry will stay away from the club until his situation is resolved.
Tuchel, meanwhile, is already planning a second raid on Chelsea and is hoping to sign Mateo Kovacic in the summer.
The Croatia international enjoyed arguably the best period of his career under Tuchel during Chelsea's run to Champions League triumph two years ago.
Kovacic will have only one year remaining on his current contract come the summer and with Man City also monitoring his situation he could opt to seek a new challenge.




Tuchel said last year: 'He looks like a wonderkid in training in some exercises. A lovely guy, a humble guy, and so interested in sports. He's so happy to train and deliver for the team. It's a true pleasure.
'Even at Real Madrid, I was aware of his talent, and I felt there was a next step coming. I'm very happy that he's my player and plays a lot this season. He is crucial to us on the pitch and off the pitch in the way he behaves.'