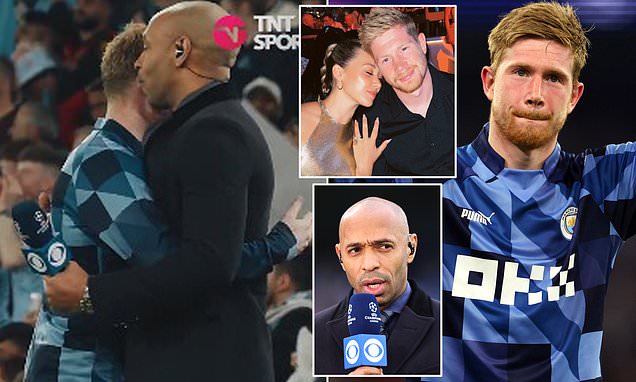 Thierry Henry has revealed Kevin De Bruyne is playing through a 'private' personal issue after the duo shared an emotional embrace after Manchester City's Champions League semi-final win over Real Madrid.
Man City secured a 5-1 victory on aggregate over the reigning European champions with De Bruyne playing a vital role.




De Bruyne currently has three children with wife Michele Lacroix, who watched Wednesday's game from the stands at the Etihad.
The Belgian playmaker scored City's equaliser in the 1-1 draw in last week's first leg, before providing the assist for Bernardo Silva's opening goal.

The goal provided the platform for City's 4-0 win, as Pep Guardiola's side set up a final against Serie A giants Inter Milan.
De Bruyne, who was substituted in the 84th minute, was seen embracing former Belgian assistant coach Thierry Henry after a post-match discussion.
How To Lose Belly Fat In 2 Weeks
How I Earn $100 In A Day With Crypto Trading
Henry, who was working as a pundit for CBS, said he had 'even more respect' for the player for playing in the tie after their 'private' conversation.
'It was [a touching moment]. I can't say it because I have to keep that private,' Henry said.

'But from what he said to me, I even more respect how he played tonight and how he came and battled with his team. I can't share what he said because I can't share it. That's how it is. 'But once again I will go back to, for me he is the most important player.'
According to reports, City wish to keep the matter private and are confident it will not affect the rest of the campaign.




The exchange between De Bruyne and Henry came after the Belgium international had told City manager Guardiola to 'shut up'.
De Bruyne and Guardiola were seen rowing in the second half, after he had been robbed of possession.
Guardiola was left seething when the midfielder drove forward with the ball just inside Madrid's half and, after failing to spot a pass to Jack Grealish on the left, and he was robbed of possession by Militao.