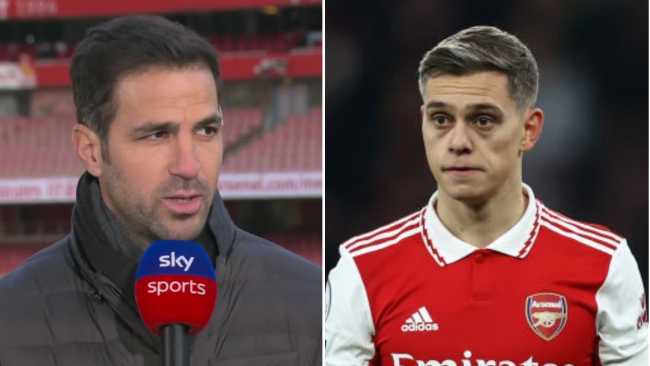 Cesc Fabregas says Leandro Trossard showed flashes of what he will bring to Arsenal in his brief cameo against Manchester United and is not convinced they don't need more January signings.
The north London side restored their five-point advantage at the top of the Premier League with a 3-2 victory over United at the Emirates on Sunday, with Eddie Nketiah grabbing a winner in the 90th minute.




Trossard, who arrived from Brighton in a £27m deal on Friday, made his debut in the 81st minute against the Red Devils and played a role in the winner, playing in Zinchenko who crossed the ball into the box.
Fabregas is a huge fan of the Belgian and liked what he saw in his cameo, while he feels both Trossard and incoming defender Jakub Kiwior should be enough reinforcements for the January window.
Asked if Arsenal still need more players to add more squad depth, Fabregas said on Sky Sports: 'Well we need to believe in the squad they have.
'I think Trossard is a really good player, better than at the moment what people think he is.




'He showed it at Brighton and he showed it today for a couple of minutes. He's different to what they've got. He plays between the lines, he can score goals, play in different positions up front.
'Gabriel Jesus needs to come back at some point soon and if they can keep going with Eddie [Nketiah] scoring goals and waiting for Gabriel to come back.

'Plus the defender that they just bought from Spezia. Maybe [they could get] another signing.'
Jamie Redknapp was also impressed with Trossard, saying: 'There would have been panic stations when they didn't get Mykhailo Mudryk, they might have thought, "That was a big miss for us".
'But Trossard has already shown in a 15-minute cameo that he is going to be a great signing for them.
'Great qualities, goes forward with the ball, he's comfortable on it. He's a typical Arsenal player if you like. A good footballer that scores goals, makes goals, he's a good signing, £22m [up front] is a real bargain from their point of view.'




Roy Keane also advised Arsenal against making too many signings, adding: 'Be careful what you wish for. We all be discussing what players you need, sometimes you just have to look at the group you have got.
'One or two players coming back from injury and you go, you know what, no need to panic buy or pay over the odds like we see with other clubs. They've got a good group. Obviously Arsenal have always produced good young players.
'Just be careful that you're looking outside. Be happy with the group, look at what they've achieved already so far. Be careful that you might bring in a player and it just upsets everything.'