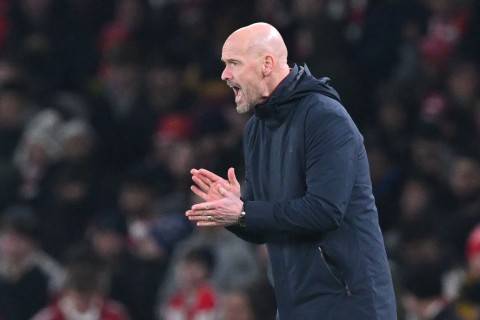 Erik ten Hag has warned Manchester United players they will not win a trophy unless they make a key change after their 3-2 defeat at Arsenal on Sunday afternoon.
The Red Devils are yet to lift any major silverware since they won the 2017 UEFA Europa League under Jose Mourinho.




Some had tipped United to challenge Arsenal and Manchester City for the Premier League title but defeat to the Gunners now leaves them 11 points behind Mikel Arteta's side – who also have a game in hand.
But, United remain in the Carabao Cup, FA Cup and Europa League and still have a chance of ending their trophy drought this campaign.
Ten Hag's side face Nottingham in the first leg of their Carabao Cup semi-final on Wednesday before they play Reading in the FA Cup fourth round on Saturday. They also have a clash against Barcelona in the Europa League on February 23.
Speaking after United's loss at the Emirates, Ten Hag said: 'Maybe that will come in the next couple of hours, that we will realise we are in a good position, realise we are in a good development and a good process.




'But in this moment I am annoyed and I also told the players: 'If you want to win trophies, titles, you have to change our mentality, because it's not possible that you are in a top game making three such big mistakes where you concede'.
'Then especially the last goal, you have to feel the game. At that point, a point was the maximum.

'Then you have to take the point and you can't give such a goal away like we did. And on top level, you can't win trophies. It was like a pack of cards with the goals we concede.
'Two starting with a corner and then obviously we make mistakes, we didn't show the discipline in the rules we have there. Then you concede goals.'
Quizzed on how he will fix the club's mentality, the Dutch manager added: 'With coaching we change that.
'Already we have seen how the mentality from the players has changed over the last couple of months. 'But we also have to notice today that we still have a way to go to be on top level.




'We were a good team on the pitch, we were leading, and then starting [to] make such mistakes, it's about that.
'We could have won this game. When you are 1-0 up you give so easy 1-1 away, because when you are 1-0 up, spaces will come with our qualities. We could have benefited from it.
'We had a game in the week and we had some disadvantages, but excuses are not possible at the top level. You have to be in the reality and the reality is that we have to perform.'