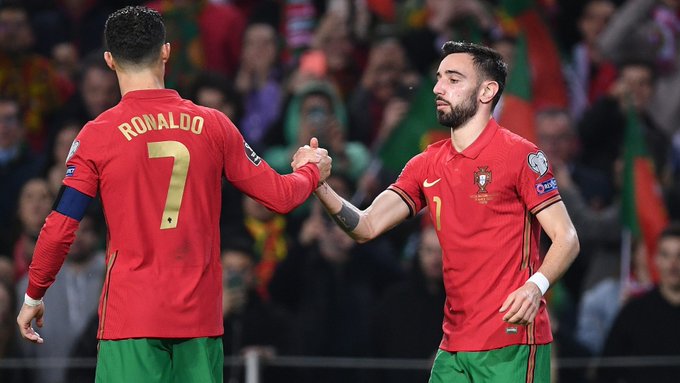 Bruno Fernandes has disagreed with former Manchester United teammate Cristiano Ronaldo that Portugal's new head coach Roberto Martinez has been a 'breath of fresh air'.
Martinez was hired as Portugal's manager at the start of the year, shortly after leaving Belgium in disgrace as his team were eliminated out of the Qatar World Cup in the group stage.




He replaced Fernando Santos who himself was sacked after Portugal exited the competition at the quarter-final stage, but not before the falling out with Ronaldo.
The legendary forward, who left United in disgrace, reacted angrily to getting subbed off by Santos and as a result was benched for two games – a tactic that was praised but hated by Ronaldo fans.
It was believed that the 38-year-old would retire from international duty after this, but he was called up by Martinez as Euro 2024 qualifying began.
It's a decision that has paid off, with the Al-Nassr forward captaining his country and scoring four goals as Portugal thrashed both Liechtenstein and Luxembourg.




Ronaldo hailed Martinez's impact on the team, saying: 'It's a new chapter for everyone, for the players, the staff and the country.
'We feel good energy. It's a breath of fresh air.'

It is not a surprise to see Ronaldo praise the man who has restored him to Portugal's starting lineup, having been so critical of Erik ten Hag after he was benched at United earlier this campaign.
But Fernandes wasn't so quick to hail the arrival of the former Everton manager, telling RTP3: 'It's just a new coach with new ideas. There is no breath of fresh air at all.
'It's just a transition period. The atmosphere in the national team has always been good. There's never been anything that wasn't fresh of the air, so I think it's just new dynamics, new coach, and you have to assimilate his ideas.'
Despite Ronaldo criticising his United teammates during the Piers Morgan interview last year, Fernandes remains on good terms with his fellow countryman and even defended him throughout the World Cup.