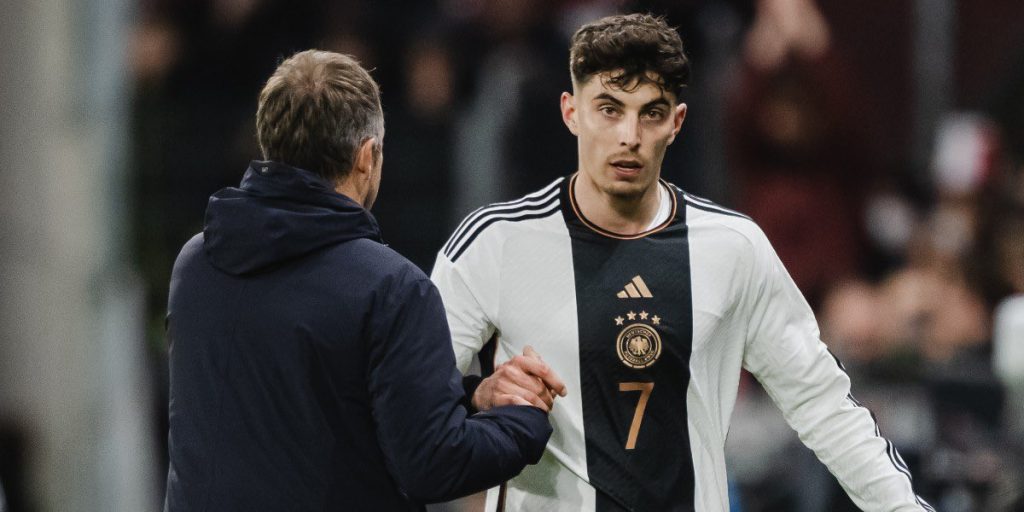 Kai Havertz says he is still coming to terms with the upheaval at Chelsea over the course of a tough 12 months that has seen a change of owner, manager and an overhaul of the squad.
Given the changes that have taken place both on and off the field, it is little wonder the Blues have struggled for consistency this campaign and look set to miss out on a top four place in the league.




And while Myhailo Mudryk, Noni Madueke and, to an extent, Enzo Fernandez have blown hot and cold so far, Havertz says it's only a matter of time before they show what they are capable of regularly.
He told The Guardian: 'A dozen players arrived since the summer; it's not easy. Enzo [Fernández] and [Mykhailo] Mudryk have come for a lot of money and they're only [22], you know? You cannot expect them to be Neymar straight away. It's like me: it takes time.'

Havertz has also been forced to get used to seeing some close friends and teammates leave, with the exit of Jorginho representing a bitter pill to swallow.
The Italian midfielder had been a key component of the success Chelsea enjoyed under Thomas Tuchel but was deemed surplus to requirements by Potter and sold to Arsenal in January.
He added: 'You have the big picture where you think: 'What is happening?' And you should think that, you should think: 'This is not right,'".
'Then you have the club. As a player, you don't notice the ownership change so much but we have a new team, new manager, new staff.




'A completely new changing room, so many personalities. You have to adapt, build a relationship. I played with Jorginho for two and a half years, he changed next to me, I loved being with him and then…
'He calls me one evening and says: 'I'm gone.' I was like: 'What the? How is this possible?' This is how quick things change. It's a human thing. You just have to accept it, it's football.'