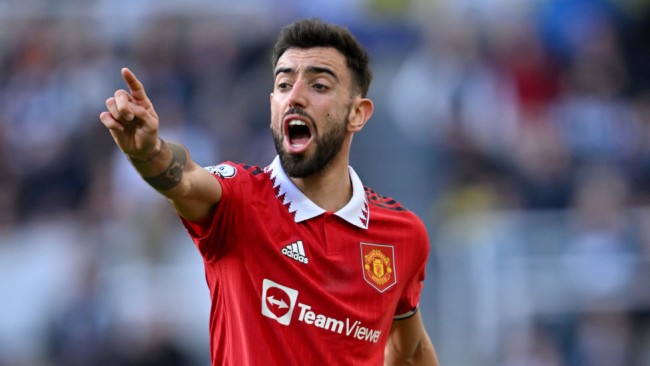 Bruno Fernandes has conceded he sometimes 'goes over the line' with his on-field antics but has accused Manchester United legends of 'saying something to get attention' with their criticism.
The Portuguese midfielder has been United's regular skipper this campaign with Harry Maguire losing his place in the starting lineup.




During March's 7-0 defeat to Liverpool, Fernandes was condemned for his behaviour on the pitch, seen waving his arms around in frustration and berating teammates in the second-half collapse at Anfield.
Former United captains Roy Keane and Gary Neville labelled his behaviour 'a disgrace', with the former even claiming Fernandes had demanded to be subbed off after his team fell five goals behind.

'I kind of understand behind that but I can't control that,' Fernandes told Sky Sports when quizzed about Neville's comments. 'We all know pundits have to say something to keep their work. The more bad things they say, the more work they get, sometimes.
'We all have to live with that but for me, it's about my team-mates being okay with that. Whenever they are not, I would like them to tell me so I can calm myself down.
'Most of the things that were said after that game were complete lies. Because I waved my arms, they [assumed] that I said something that I didn't say. The pundits always want to say something to get attention and credit from the people outside. Sometimes they say something to say.'
Fernandes has been ever-present in Erik ten Hag's starting XI this season, playing the full 90 in all but one of his side's 29 league matches, missing a defeat to Aston Villa in November through suspension.




While some of his behaviour has been questioned by pundits, ten Hag and Marcus Rashford staunchly defended the midfielder after Liverpool defeat with Fernandes believing some of his antics are misunderstood.
'Sometimes I go over the line. I know that. It can happen in the game and it is difficult to control emotions.
'But I never try to be disrespectful with anyone. We are all competitive and we all want to win. The way I play and feel the game, the passion I feel for it, is how I feel better and how I give the most for my team and to my club. That's why I play in that way.

'I've also been like that since I was seven years old, I don't want to lose my game – I am really competitive and want to give to push and give the best of myself. And I demand the others to give the best of themselves.
'If I see someone on the pitch and I'm trying to say something to them, it's because I believe they can do better. Sometimes I can even be giving credit to them but in the television you can't see that.
'You see the waving of the arms, but that doesn't mean that you're moaning at someone. It's sometimes the way you can express yourself on the pitch. With 75,000 at Old Trafford, it's difficult to feel or listen to other people so you have to make gestures with your hands.'