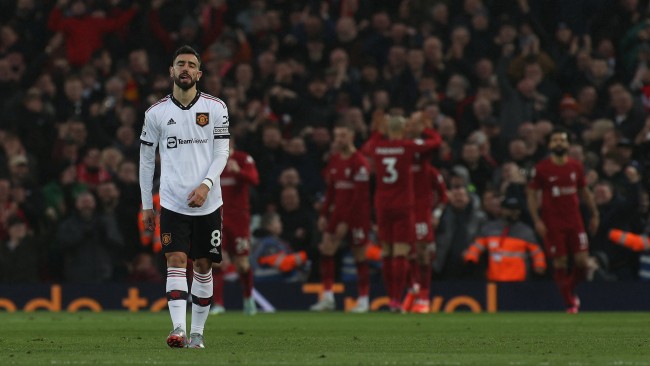 Manchester United players are 'irritated' at Bruno Fernandes & his dream of becoming the permanent captain looks set to be over, according to reports.
Fernandes disgraced himself in the club's 7-0 defeat to arch-rivals Liverpool on Sunday and spent most of the second half making petulant challenges, arguing with officials while also losing possession.




He was criticised by Roy Keane and Gary Neville and according to the Daily Mail he has even upset United team-mates, who have been left frustrated by his antics, and it is said that his chances of becoming captain have taken a hit.
Vice-captain Fernandes has worn the armband for most the campaign with Harry Maguire currently struggling for game time.




Maguire looks set to leave Old Trafford in the summer meaning that the Red Devils may soon be looking for a new captain.
Fernandes would have been one of the top contenders but there are now 'reservations inside the United camp' if the Portuguese star has the 'right attributes' for the role.
The Portugal international was branded a 'petulant child' by Chris Sutton after his display at Anfield.
'Bruno Fernandes, take a bow for one of the worst performances we have seen from a Premier League player, certainly from a captain,' Sutton wrote in the Daily Mail.




'The Incredible Sulk racked up quite the rap sheet at Anfield. There was nothing professional about this behaviour. It was more befitting a petulant child, and the push on the assistant should result in a ban, no ifs and buts.
'Paolo Di Canio got 11 games in 1998, remember, and I wouldn't disagree if Fernandes received the same punishment. This was shameful, embarrassing, disgraceful, whatever word you can conjure up.




'It is bad enough you are getting obliterated at Liverpool, but then you see the guy wearing the armband having a go at Ten Hag for not substituting him.
'Is he really the leader that everybody else is supposed to follow?
'Whatever you think of Harry Maguire, the club captain, you would not catch him behaving like this on the pitch.'