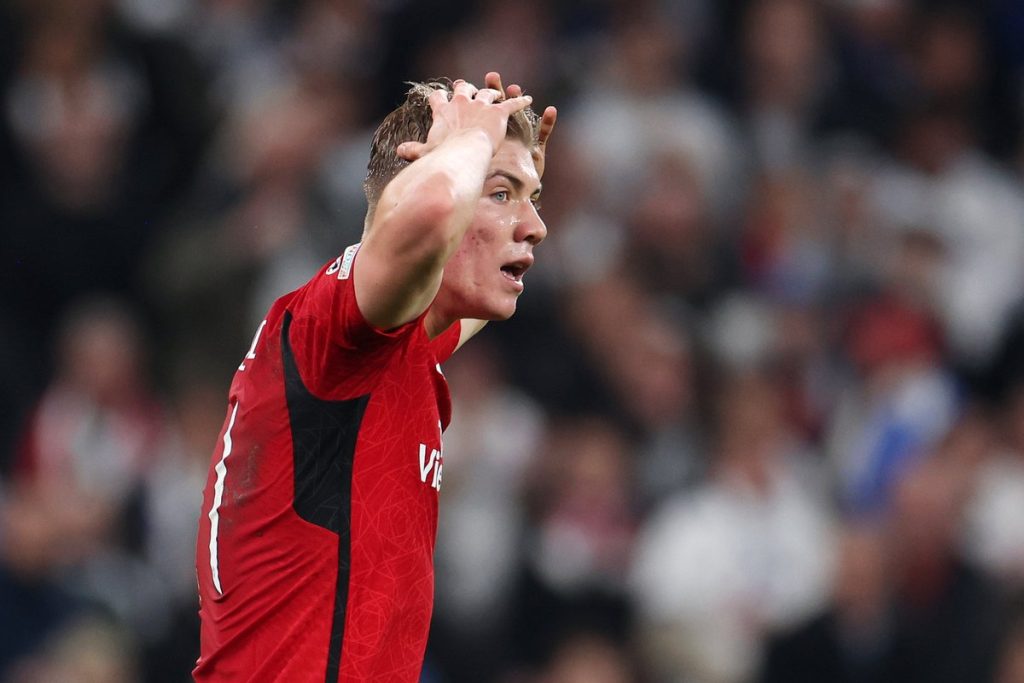 Rasmus Hojlund was seen displaying extreme frustration towards his Manchester United teammate during their Champions League match against FC Copenhagen.
Upon their arrival in Denmark on Wednesday night, United aimed to secure consecutive victories in the Champions League.
Erik ten Hag's team had an excellent start with Hojlund scoring two goals within the first 15 minutes. However, the situation took a turn when Marcus Rashford received a red card in the 42nd minute.
Ultimately, United suffered a thrilling 4-3 loss, significantly disrupting their Champions League campaign.
Observers noted Hojlund's dissatisfaction with his teammate during the game.
Manchester Evening News journalist Samuel Luckhurst wrote on his social media: "Hojlund going ballistic at Dalot."
Copenhagen's third goal was conceded due to a lapse by Portuguese defender Diogo Dalot, who permitted Lukas Lerager to advance ahead of him and score at the far post.
Speaking after the game, former United midfielder Paul Scholes told TNT Sports: "Where I am disappointed and where they do slightly crumble is that when they concede one, there seems to be another straight away.
"They had a 2-0 lead and it happened again and then they conceded in the 83rd minute, Dalot was caught sleeping – he needs to be aware of where his attacking player is."
He added: "I don't feel like there is a character in the team. You need someone to say, we've conceded a goal, it's OK but let's make sure we don't concede another one. There doesn't seem to be a leader to stop that second goal from happening and they have paid the price."
Danish forward Hojlund faced severe criticism from fans following the remarks he made in his post-match interview.
Following the loss to Copenhagen, United must secure victory in their upcoming Group A match against Galatasaray to sustain their hopes in the Champions League.