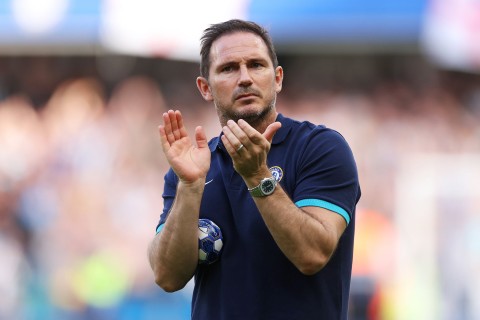 Frank Lampard has sent a warning to Mauricio Pochettino that 'there is a lot of work to be done' at Chelsea and believes standards have dropped in the dressing room.
Chelsea's miserable season finally came to an end on Sunday as they drew 1-1 with Newcastle United at Stamford Bridge.




Chelsea, who had just one win in their last 12 matches, finished the campaign with 44 points – their lowest points tally in the Premier League history.
Pochettino, meanwhile, is set to be announced as Chelsea's next permanent boss having finally signed a contract with the club.

But while Lampard has endorsed Chelsea's push to appoint Pochettino, the 44-year-old concedes he has been concerned by the drop in competitiveness among the team.
When asked about Pochettino's arrival, Lampard said: 'I don't want to get caught on the appointment until the appointment comes. I know you're going to tell me you all know when it's coming.
'I'm a big fan of Pochettino as a manager, he's a very good manager but it's not about which individual it might be, it's about getting the right, high-level of manager.
'Pochettino's history tells you he works with clubs at this sort of level. Then let them get to work with the players to try and create a solid identity in a team that can win more games. Those things are not always overnight things. We have to be careful with expectations a little bit.

'There is a lot of work to be done, that's my synopsis after six weeks, the basics I keep talking about. Standards sounds a really simple word but it's so relevant to this club at the minute.
'Standards collectively have dropped, I can be honest about that, particularly as it's the last game, I might not see some of them that much anymore anyway. The standards for a club like Chelsea have to be at a maximum or you won't be physically competitive enough. Or you won't get to play at a high level or a high speed like the Premier League demands.




'If you're not together in the dressing room, and you're not vocal in the dressing room driving each other and competitive because I want your place and you want mine and all of those things, any top team has to have that.
'At the minute, when I came in, very quickly I could see that wasn't there enough. I think that's something needed and of course a very good manager will help that. But everyone in that needs to take responsibility, players and club alike.'
Speaking about Chelsea expecting to see a number of players leave the club this summer, Lampard said: 'I think some have been mindful of that for a while and it's been part of the problem.
'It's hard to compete in this league or at this level if some players are in that middle ground and too many are. That's been a thing. Maybe getting to the end of it is a good thing.

'Whoever is emotional or has their eye on somewhere else or whether the club want them to leave or they want to leave. Now we get to the bottom of it quickly.
'At the end the dressing room was pretty quiet. It's been a quiet dressing room since I got here. Some of that reflects a lack of confidence in the group but some of those things should have been addressed by the collective as a group anyway. Confidence only follows hard work, otherwise this game won't allow you to have confidence.
'There were a lot of those things so I think probably the players are sort of happy to have a break. They have to take responsibility for this season as a collective but also individually. They can have that break and it's up to all of them to show the pride and dedication it takes to be a Chelsea player to take the club forward.'
When asked if he Chelsea can show major improvement within a year, Lampard said: 'I don't know that. It's hard to say.
'This league is tough and it's get more challenging every year, everyone is trying to move forward. I wouldn't want to put a time-limit on it.'