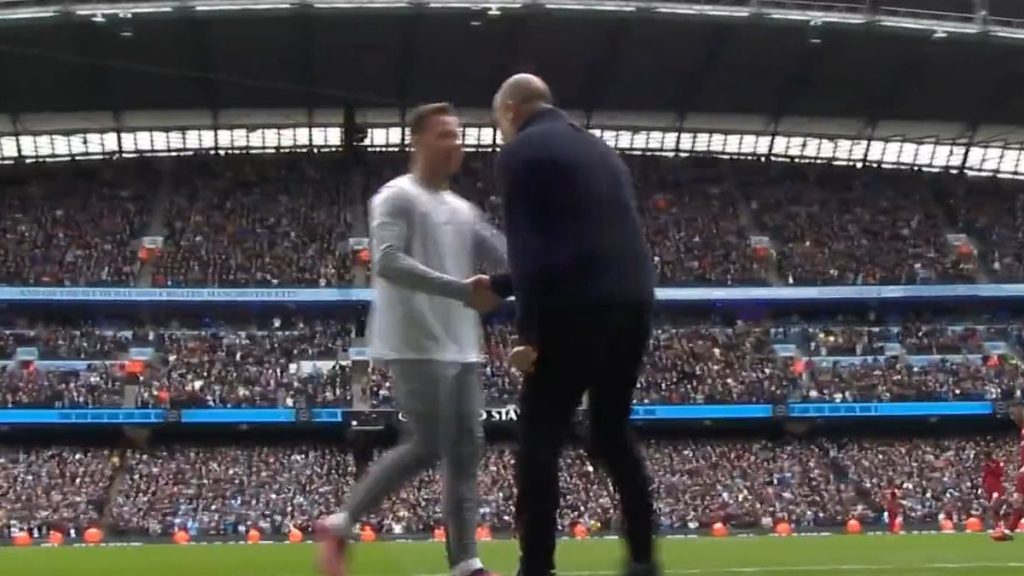 Liverpool substitute Arthur Melo bizarrely shook hands with Manchester City manager Pep Guardiola as he celebrated his team's opening goal in their thrashing of the Reds.
The Reds had gone a goal ahead through Mo Salah, but Julian Alvarez equalised 10 minutes later. From there, City took control, with goals from Kevin de Bruyne, Gundogan and Grealish sealing the win.




But it was Guardiola's celebration of Alvarez's goal that caught the eye and left Liverpool supporters furious. The City boss jumped in the air pumping his fists towards the home crowd as a group of Liverpool substitutes walked past him.
Guardiola first turned to Tsimikas, putting his hand out looking for a high-five, though the Greek defender ignored him. The City head coach instead gave him a tap on the chest before moving on to Arthur.
He stuck his hand out for a handshake, with the midfielder obliging as he smiled and joked with Guardiola. After Arthur had walked past, the Spanish coach turned back towards the crowd, though he insisted after the game that he was not being disrespectful.
"I was happy and I said [to Tsimikas] how nice our goal was. I'm so sorry. Ask him if I lack respect, ask Tsimikas. I celebrate the goal the way I do with my son. I'm so sorry. Do you think it's a lack of respect? Ah ok, I'm so sorry!" Guardiola said sarcastically.




Arthur's reaction left Liverpool fans furious though, with many slamming the player. One supporter wrote: "Put him on the first flight back to Turin." Another added: "Cancel his contract. What's the point."
While another said: "Love Kostas even more for refusing the handshake. Arthur though? And the big smile after??"




Guardiola's reaction also left pundits confused, with Rio Ferdinand saying the Spaniard was lucky Tsimikas did not react.
The Manchester United legend reacted to the incident at half-time, saying: "That celebration there, I don't know how Tsimikas hasn't pushed him out of the way… He couldn't contain himself."
"From the first minute until the 93rd minute, it was almost the perfect performance. Even 0-1 down, we were playing well and Jack [Grealish] made a good save to stop a potential 0-2," Guardiola told BBC Sport.
"The way we played, the way we found our spaces for how they defend. Our intensity, high pressing. Of course, we fight to chase Arsenal and they are not used to being in this position.

"Last season they were two games from a quadruple and now they are playing to be in the top four – it would be incredibly difficult for us as well. As a part of that, you have to perform the way we performed. We were so stable and stuck to the plan. All the players were magnificent."