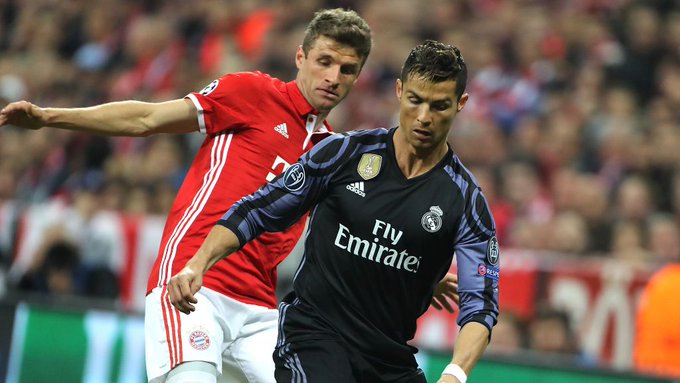 Thomas Muller claims Cristiano Ronaldo has posed more threat to Bayern Munich than Lionel Messi after Paris Saint-Germain were knocked out from the Champions League.
Bayern had a 1-0 lead over PSG from the first leg and added a 2-0 victory in the return leg at the Allianz Arena on Wednesday to secure their place in the quarter finasl.




However, Messi struggled to make an impact in both legs and has lost six of his nine matches played against the German side during his career.
After Bayern's win, Muller said Ronaldo has caused his team more problems in the Champions League over the last decade but acknowledged that Messi would find it tough playing for PSG due to their lack of balance.




'Against Messi, things always go well at all levels in terms of results,' Muller said after Bayern's win over PSG.
'At club level, Cristiano Ronaldo was our problem when he was at Real Madrid.
'But I have the greatest respect for Messi's World Cup performance. Messi's individual performance at the World Cup was amazing. He carried the whole squad.
'It's not so easy to play at a team like PSG. It's difficult to get a really good team balance.'




Meanwhile, PSG's manager Christophe Galtier believes his players needed to be more 'clear-headed' in order to progress beyond Bayern in the Champions League.
'We had a really good spell when we created chances. We were competing with our opponents and were on top. Unfortunately we couldn't take the chances we had,' Galtier said.
'Then in the second half we conceded a really stupid goal. At this level you need to be a bit more clear-headed.

'Obviously we were under pressure from Bayern. At that point you need to not be ashamed to play long, to break out of the press.
'And obviously after an hour when you go behind it becomes very difficult.
'I don't know if it is a lesson we need to learn but it is frustrating and disappointing. The game would definitely have been different had we scored first.'