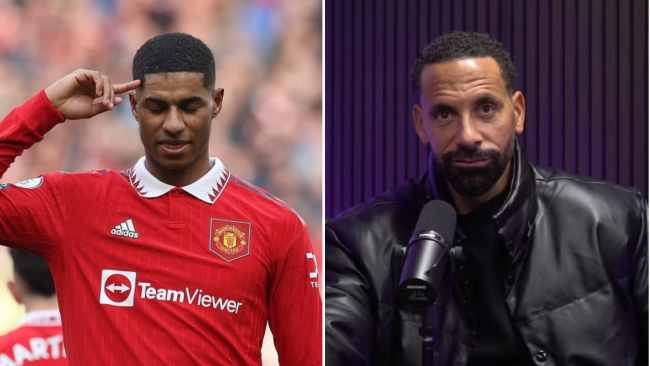 Rio Ferdinand has finally revealed the meaning behind Marcus Rashford's celebration and claims the vibes around the club's training ground are the best they have been in years.
Manchester United have been in superb form since the campaign resumed affer the World Cup and are just five points behind Premier League leaders Arsenal, while they have a Carabao Cup final to play this weekend.




Rashford has been key to their displays, netting 15 times in 17 appearances since he returned from Qatar, and each goal has been accompanied by a trademark finger-point to his temple.
The England star has not explicitly explained the meaning of the celebration, though it is believed to hint at the mental health struggles he has overcome this season.




'I was struggling at times with more mental things. It wasn't really my own performance but other things off the pitch,' he said last year, when he started doing the celebration. 'Too often last season, I wasn't in the right headspace for games.'
Ferdinand spent Monday at Carrington and spoke to Rashford while he was there and has now revealed that the celebration relates to the player's new-found mentality.
Speaking on his Vibe with FIVE YouTube show, Ferdinand said: 'Rashford, I found out today by the way, I went to Carrington today to interview Bruno [Fernandes], it was good. I saw [long-serving receptionist] Kath [Phipps], been there 56 years the lady! Ridiculous!
'But the celebration, it's mentality. Nice, innit. Simple. But it's just travelled massively. Everyone round the world is doing it now. All the young kids scoring goals, that's the impact Rashford has had.'



He added: 'Seeing Marcus just smiling – I've said this so many times – just seeing him smile, there's a different vibe about him.
'He's enjoying himself, there's a spring in his step. I had a nice chat, it was nice. Nice vibes in the place.'
He continued: 'The vibes at Carrington have changed dramatically. It's just become more positive, the ambience in the place.




'Everything has changed there, looks different, feels different. The feeling when you walk in there, man… I've had very, very negative vibes over the years when I've walked through the corridors of the training ground.
'And I walked through there today and it filled me with a little smile. I was on my own walking back through the corridors and I just smiled a little bit.
'It's weird to say but I can sense something happening here now. I don't know what it is, I don't know where it's going to get to, but the ambience is very different, there's a confidence throughout the place.

'And the confidence isn't from the players alone, it's the staff. I can sense something with the staff. They're all more upbeat, happy to be in at work everyday, and that's all been created and generated by Erik ten Hag and his team.'