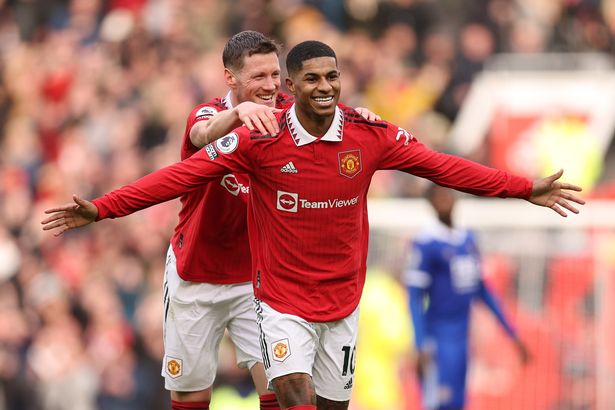 Manchester United coach Benni McCarthy says he has got Marcus Rashford in "the right place" amid the player's incredible form in front of goal.
Rashford has been spectacular this campaign, scoring 24 goals in all competitions, putting him far ahead in United's scoring charts.




The England international has hit a rich vein of form in recent weeks, scoring a brace in the victory over Leicester on Sunday.
McCarthy has played a vital role in that success, having joined United as forwards coach in the summer.
He was brought in by Ten Hag after the Dutchman became the Red Devils boss, with the other members of his backroom team having more defensive backgrounds.
The decision to bring McCarthy to Old Trafford has proven to be a masterstroke with Rashford's form. And United fans seem to think so, with some thanking him for the work ahead of the game with the Foxes.




However, the former South African international was modest with his reply, and pointed to Ten Hag, saying: "Thank you, that's the manager, it's the manager."
When the supporters replied "it's you as well", he then gave a hint towards the secret behind Rashford's form, saying: "I've got him [Rashford] in the right place."




Rashford has previously paid tribute to McCarthy, revealing he has been important to his revival. And he insisted that having an attack-minded coach was a major part of Ten Hag's success.
He said in November: "He's definitely helped me a lot. To have them attack-minded coaches is good for us in the squad, he's always there speaking to us about these things."
McCarthy's importance has also been noted by United boss Ten Hag. The Dutchman believes that the former Blackburn striker's place in his backroom team brings a level of balance that was needed.

"In our coaching staff, we had a lot of defenders and midfield players," said Ten Hag. "I wanted also to find a good balance. He is offensive [minded] as he is a former striker and that is also a really specific job task in the team.
"I never played there, so I'm lucky to have someone in my staff who played there. Football is about scoring and you have a goalkeeping specialist, but you also have offensive specialists and, in particular, we have a specific scoring trainer.
"He has to add that, in details, working and for the rest of us, he has a relationship to all the players in our squad. He also has to work on the togetherness and he is doing a great job on that."