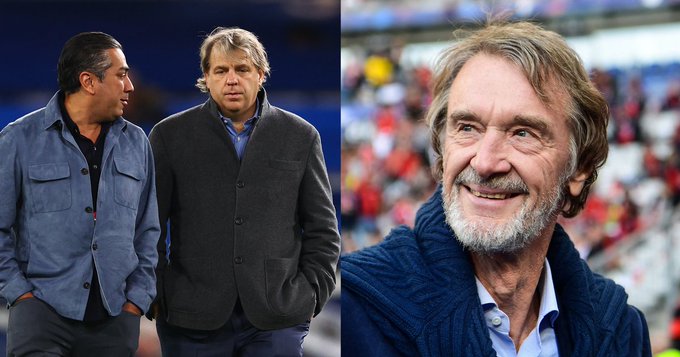 Manchester United is reported to have engaged the services of the American recruitment firm Pace to identify a new talent scout for young players, as Sir Jim Ratcliffe aims to compete with Todd Boehly and Chelsea.
The 71-year-old billionaire, with an estimated net worth exceeding $22 billion (£18.5 billion), appears poised to finalize his acquisition of a 25% stake in the club, ending a prolonged saga that nearly saw the entire club sold to Qatari banker Sheikh Jassim.
Ultimately, the Glazer family will retain a 52% majority stake, with Ratcliffe overseeing footballing operations at Old Trafford.
This isn't Ratcliffe's first attempt to enter the Premier League; he was previously linked to a potential takeover at Chelsea in 2018 and made a late offer in 2022.
Despite losing out to Boehly, he is set to leverage his substantial $35 billion portfolio to revamp Manchester United.
Ratcliffe is expected to expedite plans to modernize Old Trafford, with significant investments in stadium upgrades.
The funding, amounting to £1.3 billion ($1.58 billion), includes provisions for increasing capacity from 74,310 to 90,000, making it one of the largest sports venues in the UK.
While Old Trafford is already the Premier League's largest stadium by over 10,000 seats, the proposed changes aim to rival Wembley Stadium.
Ratcliffe's ambitions extend beyond stadium improvements; internally, he plans to revamp the scouting department using Pace, a Los Angeles-based recruitment firm.
Recognizing the need to enhance youth talent intake, Manchester United is shifting away from traditional in-house methods, adopting a strategy to rival clubs like Chelsea and Manchester City, known for promoting young players.
The club's interview process is reportedly evolving, utilizing computer-based assessments rather than traditional face-to-face interviews.
These changes follow the departure of chief executive Richard Arnold, with former Juventus chief executive Jean-Claude Blanc expected to fill the role.
Blanc, a close associate of Ratcliffe's at INEOS, has been described as the 'Lionel Messi of business.' Ratcliffe is also considering the appointment of Crystal Palace director Dougie Freedman, known for securing deals for promising talents, aligning with Ratcliffe's vision for United's future stars.