Eden Hazard's Chelsea future needs to be sorted as the club's plan for the future is at risk due to the uncertainty of his situation, says Maurizio Sarri.
Chelsea are prepared to pay Hazard in excess of £300,000-per-week to remain at the club but he is taking his time as he awaits to see where the Blues will head in both league position and signings.




The Belgium international's contract expires in the summer of 2020 and he has continuously been linked with a transfer to Real Madrid.
"I don't know but I think it is time to decide," said Sarri when quizzed about a new deal for Hazard.
"I have not the power to do this. I am the coach. I am not the president and not in charge of the market. I only speak to him about the position on the pitch.
"I think we have to solve the problem if we want to programme the future."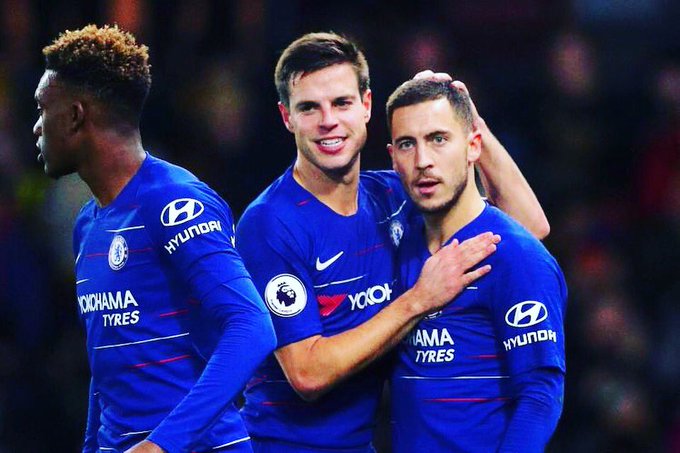 Hazard underlined his importance to Chelsea again on Boxing Day, netting a brace in a 2-1 win at Watford and scoring his 100th and 101st goals for the club in the same match.




Hazard has also said he wants to play as a winger rather than a false nine, a role he has occupied in the last four league games. .
But Sarri is happy with him in that position: "I am really very happy with him in this position, because he is very able to score, first of all, very able to open spaces for team-mates, very able to come to play with team-mates.
"I am happy with him in this role. I don't know if he prefers to play as a winger, but if he is able to play like in the last match in the centre, for me it's not a problem to put him in the centre.
"I cannot see the problem of Hazard in this role: he played four matches and scored three goals and made two assists.
"I think in this moment we need to be solid, and with Hazard in this position I think we can become more solid. It's a good option also in the defensive phase. It depends on the moment, maybe in the future we will be able to play with a striker and Hazard together."




Chelsea's next game is again away, against Crystal Palace on Sunday.
The Blues will be missing Pedro and could also be without Callum Hudson-Odoi as both players were withdrawn against Watford due to injuries.
Click below to follow us for more football updates…
Facebook – @Livesoccerupdates
Twitter – @Lsoccerupdates
Instagram – @Lsoccerupdates
Would you like to receive football updates for free?
WhatsApp the word NEWS to +2349034642498
"We have two problems; most serious with Pedro, who has an injury in his hamstring that I think he will have to rest for about 10 days," said Sarri.
"With Hudson-Odoi, it's not a very serious problem but I don't know if he will be able to play the next match."