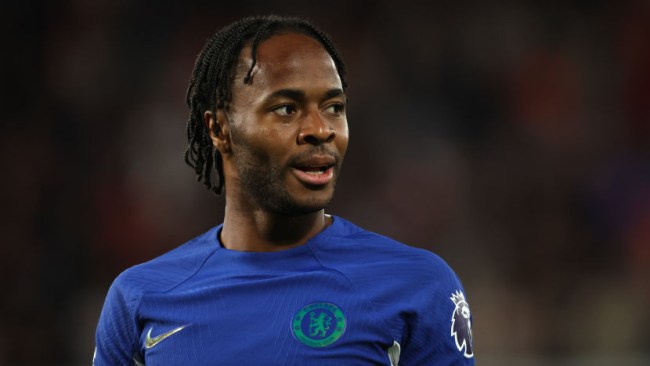 Raheem Sterling aimed a thinly-veiled dig at former head coach Graham Potter after his man of the match display in Chelsea's win over Luton Town.
Chelsea cruised to a 3-0 victory at Stamford Bridge on Friday night – the first win of the Mauricio Pochettino era.
Sterling scored two great goals either side of the break before setting Nicolas Jackson up for his first Blues goal.
The England star was named player of the match, with a display reminiscent of his best days with Manchester City – something that has scarce been seen since he signed for the club last summer.
This can perhaps be attributed to Potter who often played the attacker out of position and in deeper roles during his turbulent few months in charge.
But under Pochettino, Sterling looks reborn and he was keen to stress the impact his new manager has had in that, as well as the importance of playing in the right way.
'I was happy, obviously I think we started half decent against Liverpool and then with the loss last week [against West Ham] we needed to get a win here, I'm just happy to contribute with that, the 28-year-old told Sky Sports post-match.
'It was a bit of frustration from last season from myself personally because I felt like I was always coming with my back to goal. A bit deep and I wasn't giving myself enough chances to get into the box.
'I had a conversation with the gaffer earlier last week and we've gone through the role and I know exactly what he needs from me and it's as simple as that, I need to get on the back foot and do what I do and drive at players and get on it and that's when I'm most effective.
'I came in a difficult period, that's all finished.. I think the most important thing, I've had a look at myself and I'm a person who always tries to analyse what I've been doing, what I've done wrong, what I can change.
'I want to get back being obsessed with football – simple as that. Football 24/7, scoring and assisting goals.
'In the first game against Liverpool, I was inside the pocket a bit too much and that was my feeling last season when I was too deep playing balls with the full backs.
'We had a simple conservation and he [Pochettino] said, "Raheem it doesn't matter where you play – as long as you apply it, are dynamic, then no-one can stop you, just be aggressive with the ball". I've got the desire and hunger to do that.
'A lot has happened in my career. I came into a new challenge and it was difficult. My head could be a bit blurry – sometimes you need to have a clear vision to see what you want.
'My love for football is too strong for it to fizzle out and I want to make sure I'm maintaining those standards.'