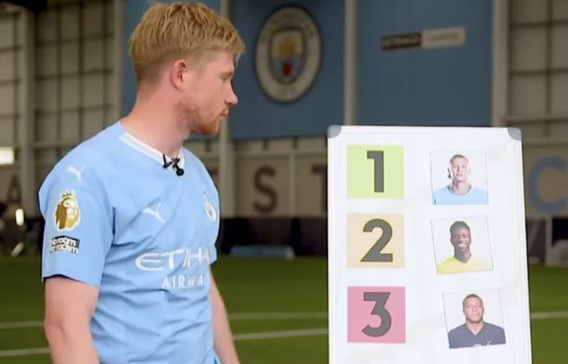 Kevin De Bruyne has ranked Bruno Fernandes, Martin Odegaard and Maddison in order of who he believes is the best creative midfielder.
The Manchester City midfielder, who is currently out of action after a devastating injury on the opening day of the season ruled him out, appeared on Sky Sports Premier League to rank a number of different topics from 1-3.
De Bruyne answered questions on some topics, such as stadium atmosphere and future Ballon d'Or winners, but the most interesting topic was when the Belgian ranked the best creative midfielders.
The Belgium international had to choose between Fernandes, Odegaard and Maddison, and it brought some interesting results.
And, it didn't take long for De Bruyne to make his choice, putting Maddison at the bottom of his ranking quickly.
The former Leicester City star has been one of the best attacking midfielders in England for some time, and has already hit the ground running at Tottenham after his move to Ange Postecoglou's side in the summer.
De Bruyne is impressed by the English midfielder but wants to see more of him in a big side before he feels comfortable ranking him above the other two midfielders in the list.
Explaining his reason, he said: "Maddison is also really creative, but I need to see more of him in a big team, so that can change, so that's why I put [him as] the number three."
The City star placed Odegaard second on his list. The Arsenal playmaker has been an absolute bargain of a buy considering the club spent just £30million on his services a couple of years ago.
On Odegaard, He added: "I feel Odegaard was amazing last year, but obviously he's younger, so there's a difference in that, Odegaard is very creative and he's a little more controlled."
Manchester United's Bruno Fernandes was named first on his list, When asked about the reason for his decision, the 32-year-old said: "I think he's a creative machine.
"I think he's always there. He takes a lot of risks also, and I like it. Obviously, he's been doing so well." "He's also been doing it a long time."