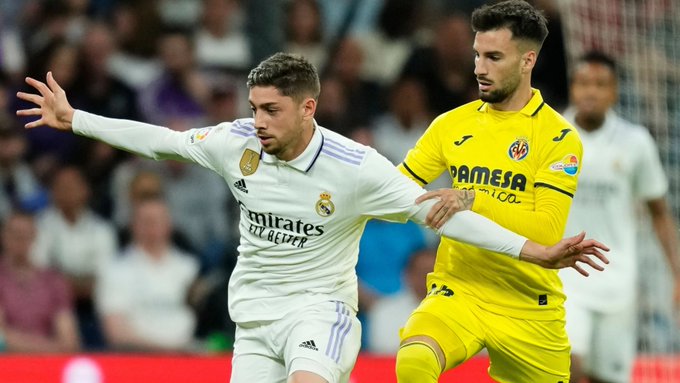 Federico Valverde allegedly punched Villarreal's Alex Baena in the car park of the Santiago Bernabeu after Saturday's La Liga defeat.
Villarreal, who are chasing a Champions League qualification spot in La Liga, secured a dramatic win after scoring two goals in the last 20 minutes to beat the European champions 3-2 in the Spanish capital.




Real Madrid midfielder Valverde is said to have waited by the Villarreal team bus in the stadium's parking lot after the clash, before confronting Baena.
It is reported he asked the Villarreal player to repeat what he had said on the pitch before attacking him.
As detailed by ESPN, Valverde's angered reaction stemmed from the derogatory remarks from Baena about the Uruguayan's unborn child – which the Villarreal star denies.
The report alleges that Baena had told Valverde on pitch in a Copa del Rey game in January: "cry, because your child won't be born."
Valverde's partner Mina Bonino revealed in February that the couple had feared that they would lose their unborn child before tests showed that the pregnancy was healthy.
Baena tweeted later in the evening: "Very happy with the impressive victory for the team on a stage like the Santiago Bernabeu, but at the same time very sad about the aggression I suffered after the match.
"[I am] surprised by what is being said about my person. It is completely false that I said [comments about Valverde's family]."
A report from Marca claims that Villarreal have footage of the incident and the player is considering approaching the police.
Footage of Baena later in the evening showed that his jaw was swollen. And Villarreal team delegate, Xisco Nadal posted on Twitter after the incident, in a now-deleted tweet: "Fede Valverde, loutish and cowardly."
Real Madrid head coach Carlo Ancelotti lamented on Spanish TV station Movistar Plus after the match: "It was a difficult game, we had chances and we could have made it 3-1 and slowed down the pace of the game, but it didn't happen.
"We could have defended better. To be honest, it was hard for us to be 100 per cent motivated, it's quite normal."
Ancelotti added: "We have no doubts, Wednesday is a different story. The temperature has dropped a little today, but on Wednesday it will be at full strength."