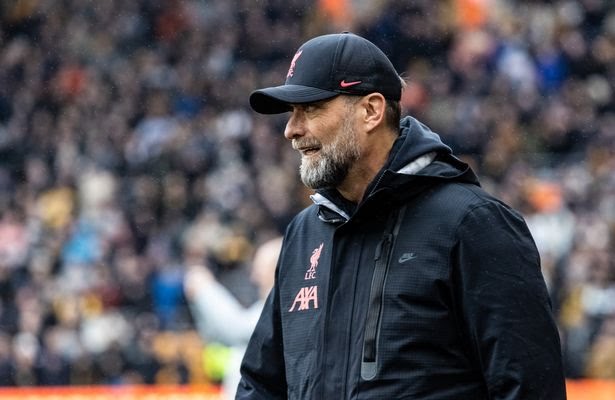 Jurgen Klopp has been teased by Wolves on Twitter after Liverpool's embarrassing 3-0 defeat to the Wanderers on Saturday.
The Liverpool manager was left with 'no explanation' after his team went down inside five minutes, with Joel Matip scoring an own goal before Craig Dawson smashed a loose ball past Alisson Becker to give Lopetegui's side a 2-0 lead.




After a poor first half, the Reds came back after the break to press on the home team, who soaked up the pressure. And it wasn't long before Wolves got their chance, launching a counter attack on the visitors that saw Neves score his fifth goal of the campaign.
It was a frustrating afternoon for Klopp, who was critical of his own side's display, but also claimed after the final whistle that Wolves' third goal should not have stood.
'The third goal I don't count because it was the first time they passed the halfway line in the second half,' he said. 'The other two goals, going into a game with all the things we said during the week and before the game, then this is the start, is horrible.'
?‍♂️ pic.twitter.com/JUnATh4g8E

— Wolves (@Wolves) February 4, 2023
And Wolves have now taken to twitter to tease the German coach, sarcastically posting an image that jokes they only won 2-0, while chalking off Neves' third strike in response to his claims that the goal should not have stood.




Fans on social media have been praising the Wolves' social media administrators, with some saying 'give the Wolves' Twitter admins a raise' while some jested, 'give them three more points.'
It's not the first time this campaign the club's social media accounts have had Twitter users laughing, with the club's social accounts mocking a Tweet by Nottingham back in October after their 1-0 win against Steve Cooper's side.




Meanwhile, It was a disappointing afternoon for Jurgen Klopp, who's side have not won in their last four Premier League matches, with this being their third consecutive away defeat.
He said: 'I have no explanation for you, I'm sorry. It needs to change. 'These first 15 minutes cannot be allowed. It needs to change. I have no explanation. There is no excuse for it.
'Everton won today and they are in a good moment so we have to prove a point again.'
'We caused the misery with the first 12 minutes. It cannot happen but it did. That is really tough to swallow.

'You're 2-0 down, the crowd is there but it opens up and we get some control. Then for about 45 minutes we play a good away game without scoring. That sums it up pretty much.'