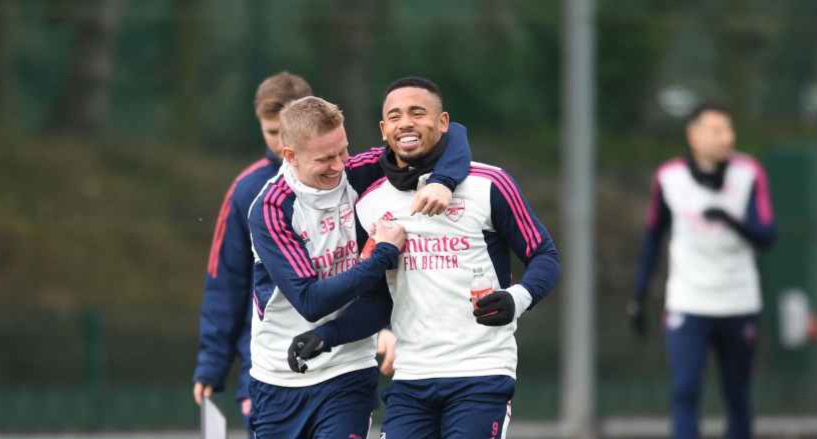 Gabriel Jesus has joked he fears Oleksandr Zinchenko wants to 'kill' him after teasing the full-back over his Premier League title contributions at Manchester City.
The duo won four championships together at the Etihad before they made the transfer move to the Emirates last summer.




And they have played a vital role in the Gunners sitting top of the league table by eight points with the club in line to end their 19-year wait for the Premier League title.
Bukayo Saka has revealed he cannot believe Pep Guardiola allowed the two players to leave City – a statement echoed by Aaron Ramsdale.
Known to be good friends, Jesus has revealed he wound up Zinchenko after commenting on his utility role at Manchester City in what was playful banter.
Naming the Ukrainian star as Arsenal's biggest joker in the squad, Jesus told Footballers Lives on TikTok: "I think Alex is the king of joking.



"All the time he just jokes with someone. One day he was like saying things you know, joking like 'ah, I won four Premier Leagues you know and then the last one I give to you'.
"He says 'that last one, last season, I came on against Villa, we were 2-0 down'. "He came on and honestly he changed a little bit the game you know because he received the ball, attack and he gave an assist.

"He just said that 'I gave you one trophy, one Premier League, because of me, you have four'.
"I said 'listen, okay, I accept that, but in four Premier Leagues, you only start 20 games'. He wants to kill me!"
After sealing a move to the Emirates, Zinchenko hailed the influence Jesus had in his transfer as he spoke about their friendship.
The 26-year-old remarked: "To be honest, we are close to each other and I love him so much. "He's my big friend and I would like to say that he was also involved in the discussion and all these things.
"He told me about the good things about this amazing club and this atmosphere and about the guys and everyone here so I'm really impressed and so happy."