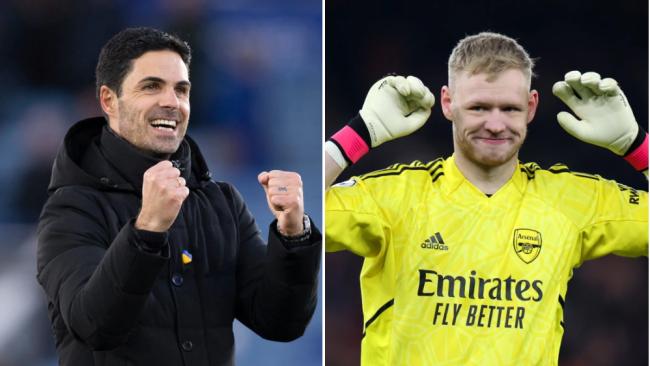 Mikel Arteta has revealed the moment he realised Aaron Ramsdale was 'the one' and decided to sign him for Arsenal.
Eyebrows were raised when Arsenal chose to spend £30million on Sheffield United shot-stopper Ramsdale in the summer of 2021.




Ramsdale had suffered Premier League relegation with the Blades and Bournemouth and there were doubts over his ability to play for a club like Arsenal.
But Ramsdale soon justified his signing, replacing Bernd Leno as Arsenal's first-choice keeper and flourishing at the Emirates over the past two years.
Ramsdale's displays this campaign have been particularly impressive, with the 24-year-old conceding just 29 goals in 30 matches to help the Gunners move six points clear at the top of the Premier League.
Arteta says Ramsdale has been 'really, really' good since arriving at the club and has revealed when he decided to sign the shot-stopper.

'It was when we played against him,' Arteta said. 'And obviously I watched him a lot and that presence and that energy he had, I thought this is the one.
'He has been really, really good and probably against the odds because when you look at his past and where he was coming from, he got relegated twice, it was difficult to imagine it.




'But we saw he had that character, charisma and personality to play for our club and he had the potential qualities to feed into our way of playing.
'When you see the development he had the past two seasons, I think he is exceptional. The first day I was on the phone to him, I said: "Let's do it, let's do it".
'Because you have that feeling, you sense when someone is mentally [strong]. And any question you ask him to see how he will answer, he is ready for it, he has seen ahead, he knows what is coming and he knows what he wants and he feels capable of doing it.
'He has no fear, he was just looking at the challenge ahead of him and that is what you want.'

Arteta added: 'That abuse was happening just before he played his first game. So you haven't even played and you're getting that abuse.
'So you need to separate that, understand where it's coming from and now start to do your job.
'And then you're going to be judged for what you've done on the pitch, and that's a different kind of judgement.
'It was tough, he needed some support and we had to protect him – but he was ready to handle that.
'He knew that was going to happen, we discussed that before: you're coming from this situation, you're going to Arsenal and you're going to have a lot of question marks over your head. And you have to do that.
'If not, obviously you go and pay £85m for a goalkeeper who's won everything – you don't have those questions, that's a different story. We weren't in that position.
'First of all talk about it: this is coming, don't react, be proactive and discuss it, and expect it and get away from it. Don't read it. That's not going to help.
'You obviously need individuals to perform at the highest level and you certainly need your keeper to be very impressive in certain moments.
'Every team that has won titles, the goalkeeper is a key contributor. Aaron has been really, really good this season.'