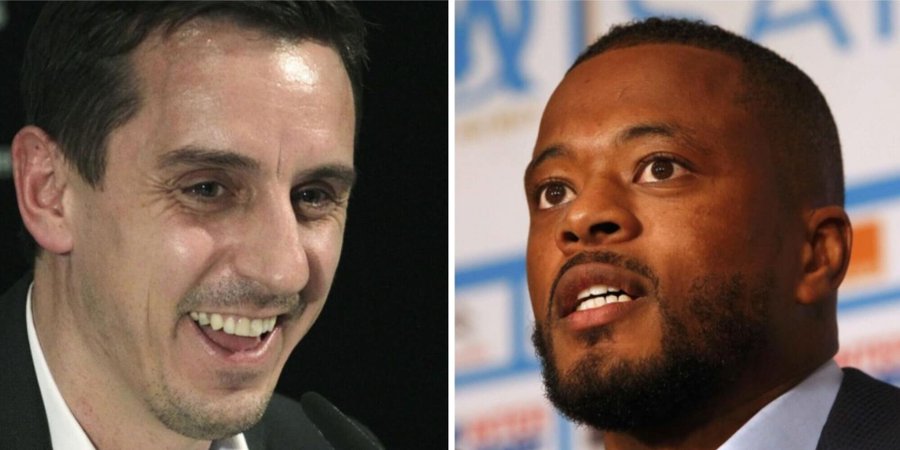 Former Manchester United defender Patrice Evra has revealed how he "nearly killed" Gary Neville in training.
The former France international enjoyed a superb career at Old Trafford, claiming five Premier League titles, three League Cups and the Champions League.




Evra formed part of a formidable United backline with Ferdinand, Nemanja Vidic and Gary Neville, the foundation for United's incredible latter period under Sir Alex Ferguson.
Blessed with a number of world-class defenders, it was perhaps inevitable that there would be disagreements on the Carrington training pitches and Evra reveals how a vengeful tackle "almost killed" his opposite full-back.
"I nearly killed Gary Neville, I'll be honest with you," Evra opened up on his self-named YouTube channel. "Sir Alex Ferguson stopped the training about that."
He added: "So I remember, I get the ball. Then Gary Neville comes and he tackled me. He got the ball but he got a little bit of me so I was on the floor. And I looked at him and he was standing there.

"And I said 'Gary, you won't say sorry?' He looked at me and said 'f*** off'. When he said that, that's what brought me back to the streets, the hood. I was like 'ahhhh fine'. I just stood up. I cleaned my shin. I said 'game on'.
"The ball arrived to his chest. I go and run and I put my two legs into his chest. He jumped also, so I put my two legs into his chest. He did a backflip."




Leaving Old Trafford in the summer of 2014, Evra joined Juventus on a two-year deal. He won back-to-back titles in Serie A but they were beaten by Barcelona, in which the Frenchman became the first player to lose four Champions League finals.
He also enjoyed stints at Marseille and West Ham before a one-off appearance for Middlesex County League Premier Division club Brentham in a pre-season friendly.