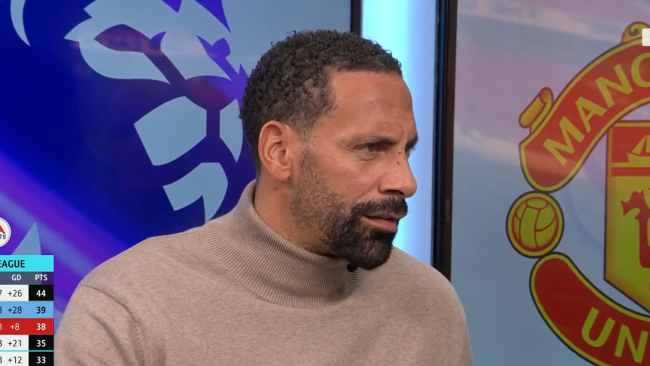 Rio Ferdinand believes two strikers 'jump out at you' as Manchester United move their attentions to the summer window.
Erik ten Hag is expected to sign a new striker at the end of the campaign, having released Cristiano Ronaldo in the Qatar World Cup.




United improved Ten Hag's attacking options with the signing of Wout Weghorst in the January window but the Netherlands star is seen as a short-term fix rather than a long-term solution.
Ferdinand says Weghorst has 'offered a lot' since his arrival at the club but still reckons United are planning to spend big on a star striker and has named Harry Kane and Osimhen as two major targets.




Kane is enjoying another superb campaign at United's Premier League rivals Tottenham – scoring 22 goals in all competitions – while Osimhen has netted 19 goals in the league to help Napoli soar 17 points clear at the top of the table.
'I think United are looking to sign a striker, there's no secrets around it,' Ferdinand told William Hill.
'Wout Weghorst was maybe a short-term option, although I think he has offered a lot and is doing everything that the manager would have wanted.
'There are two options that jump out at you. I think Victor Osimhen, in terms of form and being that out-and-out number nine striker, is arguably in better form than anyone in the world at the moment.




'Harry Kane is also someone people are talking about – there may be contract negotiations with Tottenham coming up, or perhaps he'd be looking to move.
'If that were to be the case, then I wouldn't be disappointed with either. I think signing a number nine who can score 20-25 goals a season is something that the club are looking to do.'




'I think Erik ten Hag has been fabulous up to this point,' Ferdinand added. 'He's answered every single question and overcome every obstacle that has been placed in front of him.
'Whether it be Marcus Rashford being late, the captaincy situation with Harry Maguire, or the incident with Cristiano Ronaldo, he's dealt with it perfectly. Long may that continue!
'You can't judge a season when it's not even finished yet. But we've already got a trophy, and if we finish in the Champions League places, which is looking increasingly likely, then it's definitely a successful season.

'You have to think of how United fans were feeling at the start of the campaign, including myself, saying that we weren't going to finish in the top four.
'Compared to today, the feeling surrounding the camp and within the fanbase is very much on a different level to the one when the season started.'