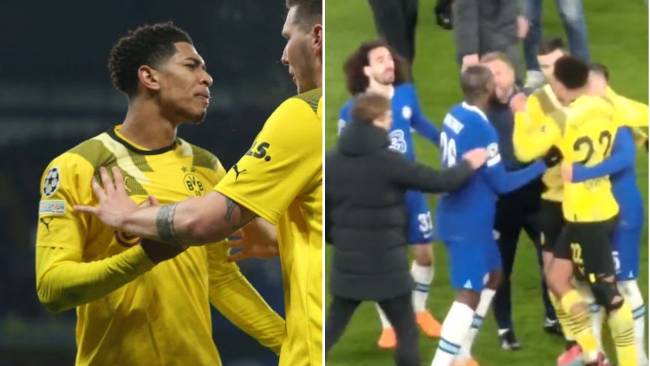 New fan footage has revealed Jude Bellingham got into an ugly argument with Marc Cucurella after Chelsea's win over Borussia Dortmund on Tuesday.
The Blues went into the second leg needing to overturn a one-goal deficit and gave a superb display at Stamford Bridge, with goals from Raheem Sterling and Kai Havertz either side of half-time securing a 2-1 aggregate win.




Bellingham was frustrated in the final moments of the game and was trying a little too desperately to force an equaliser, giving the ball away frequently.
He even ploughed through Reece James at one point – earning a yellow card – and also clashed with Chilwell when he went down injured late on, trying to pick the defender up off the floor.
???? ???????????????????????????????????????? ???????? ????????????????????????????????????! pic.twitter.com/FTDQpjdqGB

— EuroFoot (@eurofootcom) March 8, 2023
After the game, new fan footage from the crowd shows Bellingham jog over to Cucurella and push him, also appearing to say something, with the left-back shouting back at the England star and laughing at him.
The bickering continued, with a few players in between, and Graham Potter can be seen grabbing Cucurella and trying to push him away from the altercation.




But the left-back walks back towards Bellingham, who continued to wind him up after breaking free from Koulibaly, and that prompts Potter to step in a second time – though he walks away thinking the situation had been calmed down.
Bellingham is still worked up though, and after shaking hands with Enzo Fernandez he again tries to get at Cucurella but is blocked by the Argentine star, Koulibaly and team-mate Giovanni Reyna.




Dortmund boss Edin Terzic also tries to calm Bellingham down but he only has eyes for Cucurella, who continues his goading, and at this point assistant coach Billy Reid has also stepped in between the players.
Eventually, a smiling Cucurella is ushered away by Fernandez while Reyna manages to get Bellingham to walk way from the situation – though he was still looking for the Chelsea fullback and seemed keen to continue the confrontation.