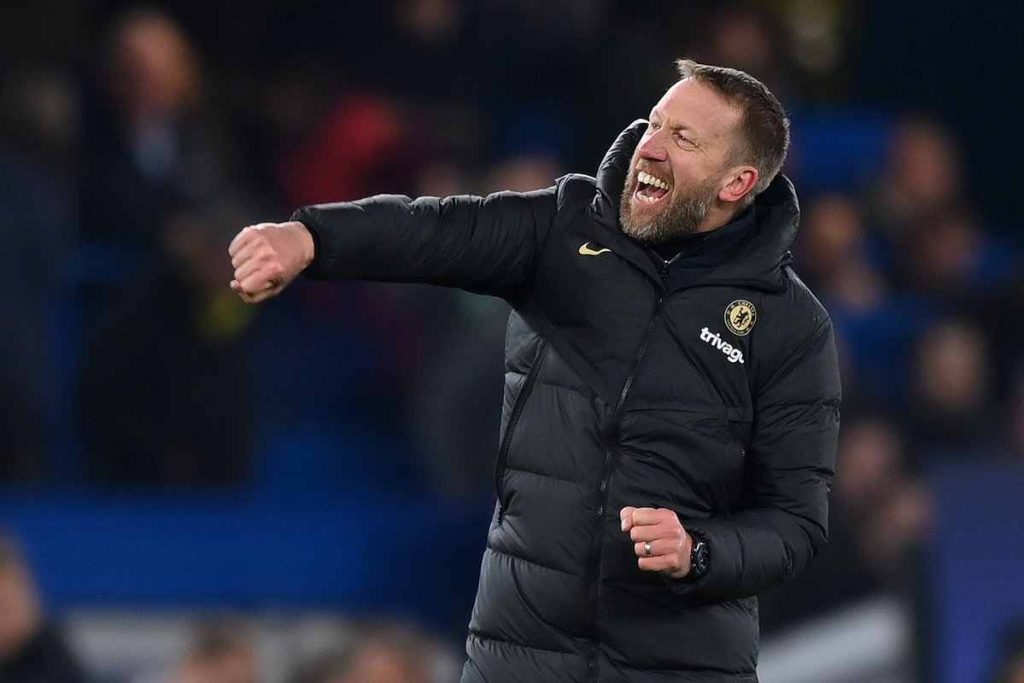 Chelsea boss Graham Potter had to pause his celebrations after his side's dramatic victory over Borussia Dortmund on Tuesday to step in and stop Marc Cucurella from confronting some of the opposition.
Stamford Bridge was bouncing ahead of game in their key Champions League tie with Dortmund on Tuesday.




Having lost the first leg in a 1-0 defeat, all the pressure was on Chelsea to turn things around. And Raheem Sterling put the Blues level on aggregate in the first half and they continued to push for a winner.
It come in controversial circumstances after Chelsea were given a penalty. Kai Havertz hit the post with his effort, but he was given a another chance from the spot after Dortmund were penalised for encroachment.
The referee's decision caused huge protests from the Dortmund stars. Though, Havertz stepped up again and slotted it away the second time for what proved to be the winner.
There were plenty of nerves from the home crowd in the final minutes as the German side pushed for a goal and there appeared to be bad blood towards the end of the game. Tackles were flying in with Dortmund players starting to lose their heads.




And their protests continued after the game with several players confronting the referee after the match. Meanwhile, Chelsea players were celebrating on the pitch with Potter joining in with his team.
But Potter had to stop his celebrations after spotting an angry Cucurella begin to march over to the Dortmund stars. The Chelsea manager was caught on camera in a heated exchange with the player, pushing him away.




Cucurella started walking away, but Potter had to intervene again as he tried to make his move a second time. The Chelsea boss tried to diffuse the situation by pulling the Spaniard in for a hug, which appeared to work.
Reaching the Champions League quarter-finals could prove to be key for Potter, who was facing huge pressure at the club after a run of poor results.
They've now won two successive matches and will look to keep that momentum going against Leicester City this weekend.