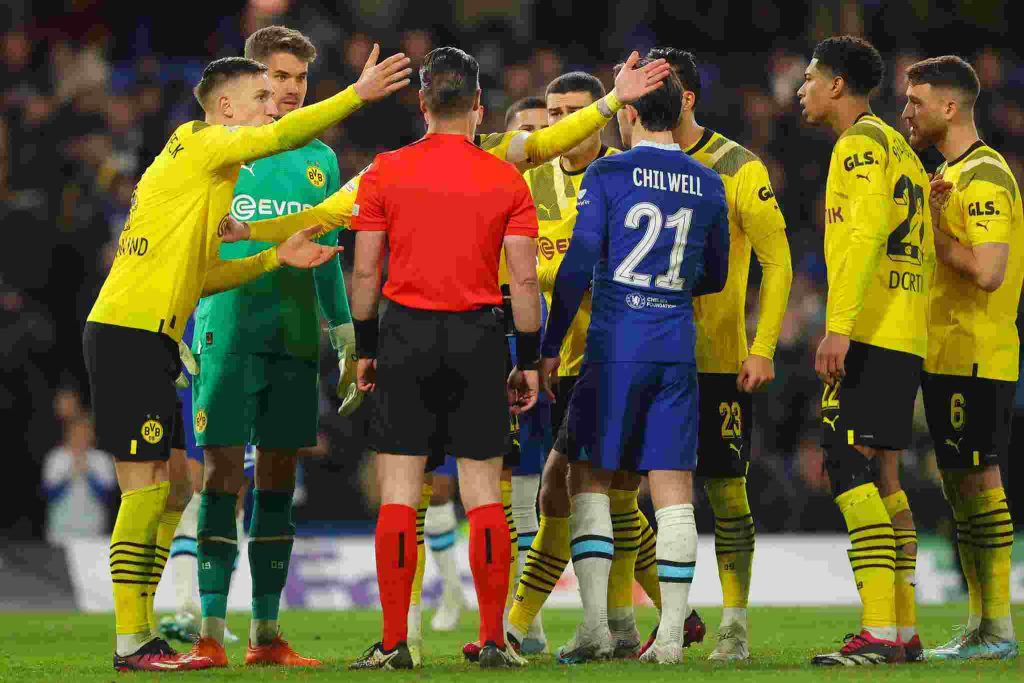 Chelsea recorded back-to-back wins for the first time since October by beating Bundesliga team Borussia Dortmund on Tuesday.
Facing a 1-0 deficit from the first leg, Chelsea returned to form at the weekend by beating Leeds United before goals from Raheem Sterling and Havertz turned their last 16 Champions League game with BVB around.




The result eases pressure from the shoulders of Graham Potter, though Dortmund boss Edin Terzic and Jude Bellingham were less than satisfied with the officiating, especially surrounding the penalty.
The referee in charge on Tuesday was Danny Makkelie. And the Dutchman is closing in on 300 games officiated in the Eredivisie and is a regular in the UEFA Champions League, having made his debut in 2014.
The original awarding of the penalty was controversial. A cross from Ben Chilwell hit the arm of Marius Wolf from close range, with Makkelie consulting the monitor before pointing to the spot.
After some protestations from the visitors, Havertz took the penalty but saw the effort hit the post and away to safety. With the score still at 1-1 on aggregate, Dortmund looked to have evaded a knockout blow.




Once the penalty hit the post, Chelsea supporters got that sinking feeling. While Dortmund didn't have many goalscoring chances, the miss may have provided them with an extra spark.
But, more checks took place from the officials and it was determined Dortmund star Salih Ozcan had encroached into the 'D' outside the penalty box before Havertz made contact with the ball.




Makkelie was alerted to the infringement and then he ordered the kick to be retaken, drawing more ire from the Dortmund players.
The visiting side felt aggrieved with Ozcan being penalised as players from both sides were ignoring the rule to get to the loose ball.
Kavertz made no mistake this time around, picking the same side but finding the inside of the post.