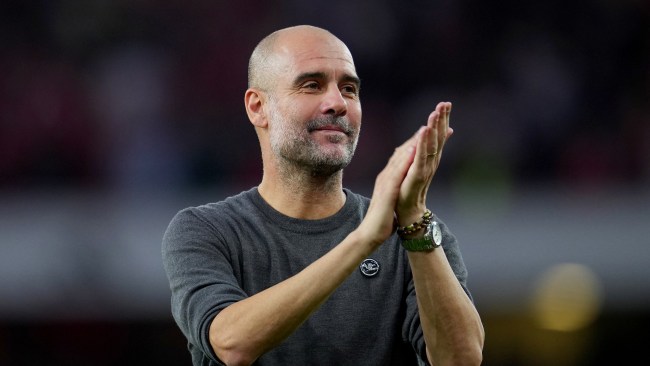 Pep Guardiola told Brighton's stars that Roberto De Zerbi will be Manchester City's next head coach, according to reports.
De Zerbi has done a good job since taking over from Graham Potter 13 months ago as he guided Brighton to a sixth-placed finish in the Premier League last campaign & secured European football for the first time in their history.
Brighton are also regarded as one of the Premier League's most eye-catching teams under De Zerbi, who has also coped with a number of key players leaving his squad including Mac Allister and Moises Caicedo.
According to The Telegraph, after Man City played at the Amex Stadium in May, Guardiola was speaking of a few of the Brighton players in the tunnel when he nodded in De Zerbi's direction and said, 'that's the next Man City manager'.
The report claims De Zerbi is 'greatly admired' by Man City's hierarchy, although the prospect of extending Guardiola's contract cannot be ruled out.
Speaking ahead of City's Premier League game with Brighton on Saturday, Guardiola reiterated his admiration for De Zerbi and the Italian manager's style of play.
'I think I admire him for the fact it doesn't matter the team he plays, he proved you don't have to be in a top, top, top club or with top, top exceptional players to make your team play how you like to play,' Guardiola said.
'He came from Italy and the way he plays is a little counter-cultural and it doesn't matter what happens.
'He plays [with] Sassuolo and teams who may not be considered the top, top, top ones, it doesn't matter, [we] have the ball we are going to play, to play, to play.
'I'm a spectator mainly as a manager and I enjoy a lot watching his teams play, I learn, like it and what he does makes sense.
'It's not a surprise the success his teams have because he is playing deservedly.
'Even when they lost to Villa, he plays his own style, it doesn't matter transitions, deflections, Aston Villa, a top side this season for the quality they have with the manager and players, but they do [play], it doesn't matter.
'Tomorrow will be an example. It will be one of the toughest tests we have this season. We'll try to go for it.'