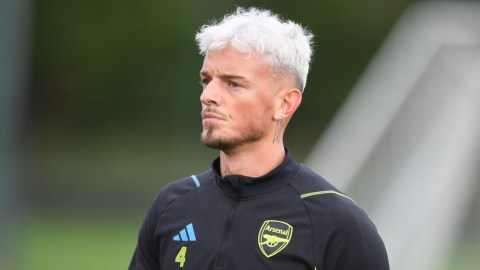 Arsenal defender Ben White has sent a warning to Chelsea duo Mykhailo Mudryk and Raheem Sterling ahead of Saturday's game at Stamford Bridge.
The Gunners, unbeaten in the Premier League so far this campaign, lock horns with a Chelsea team who have won their last three matches across all competitions.
White has not missed a minute of top-flight action and will be tasked with keeping Mudryk and Sterling quiet when the clubs meet in west London.
Asked if he was 'prepared' to face Mudryk and Sterling this weekend, White told Sky Sports: 'You can pick any of them.'
He added: 'What I joke about is that you can know who you're playing against before the game, and then, at 60 minutes, when you're absolutely knackered, someone else comes on who is just as good.
'That happens against every top team. You've got to deal with it.'
White also joked that he is doing 'all of Bukayo Saka's running' this campaign when asked about his partnership with the winger on the right flank.
'I'm doing all his running!' White said. 'That's what I'm there to do. I'm there to help him get into positions where he can do what he is so good at. If that means I have to do more running, then that's what it is.
'If I do it 10 times, there's probably going to be one where we end up scoring. But also, by doing that, I'm taking away a winger who should be up the pitch, and is most dangerous there.
'He is going to have to run all the way back with me and I'll take my chances that I'm probably going to be fitter and able to do that extra run and get there first. I think that's key.'
White, speaking generally about his right-back role, has argued that the position is unique at Arsenal because of Mikel Arteta's demands.
'Playing full-back the way he wants is, I think, completely different to any other manager,' White added.
'To play full-back for him, you've got to be a centre mid, a centre-back, a winger, a No 10. So, it's been about developing the whole of my game, rather than just as a full-back or a centre-back.'