Maurizio Sarri distanced himself from the rumours surrounding Eden Hazard and Thibaut Courtois during his opening press conference as Chelsea head coach.
Both Hazard and Courtois have been heavily linked with moves to Madrid this summer and both players are are yet to return to London after Belgium's World Cup campaign.
Chelsea have set an asking price of £200million for Hazard, while Courtois could complete a move to the Bernabeu for a fee of around £31m ahead of the 2018/19 campaign.




Sarri claimed on Wednesday that transfer rumours 'bore' him, but did concede that it's important for Chelsea to hold onto their top players.
Asked about the speculation surrounding the future of Hazard and Courtois, Sarri said: 'Clearly we would always like to keep our strongest players.
'This is what any manager wants and this is what any club wants to do but then well see how the market goes over the next few days.
'I must clarify I feel much more a pitch manager than a general manager.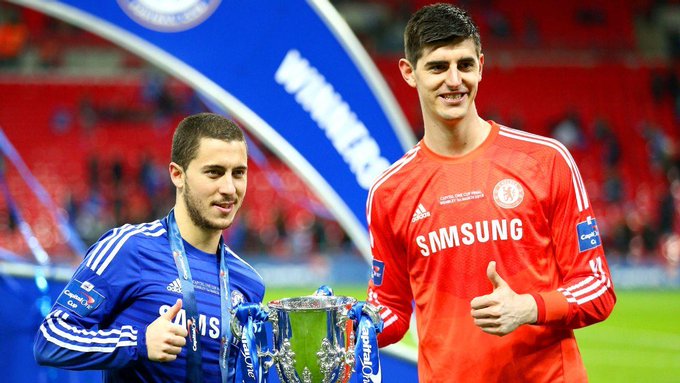 'I think that I'm one of a few managers who is bored by the transfer market. I don't want to talk about it and I'm not that interested in it.
'Our task as managers is growing the players we have.'
Sarri revealed that he will not be calling Hazard to dissuade him from joining Madrid.
'I don't think so, honestly,' the former Napoli boss said.
'Because the players you are referring to are clearly very high level players and I would like to keep them in my squad.




'But a telephone call without looking them in the eyes would not give me any certainty. I want to meet them face-to-face and talk to them and see what the best thing to do would be for everybody.
'Before that I would also like a player to come on the pitch with me for four or five days to get a clear idea of what the picture is.'
Dries Mertens was deployed as a central striker under Sarri at Napoli but Chelsea's new boss believes he will have a different challenge with Hazard.
'Hazard is a very high level player and I think he's one of the top two European players,' he said.
'Obviously I would like to have fun during the week together with him and also Sundays because this would mean we have had a good result.




'I hope that I will manage to improve him. This is very difficult considering he's reached a high level. With Mertens it was different.
Click below to follow us for more football updates…
Facebook – @Livesoccerupdates
Twitter – @Lsoccerupdates
Instagram – @Lsoccerupdates
Would you like to receive football updates for free?
WhatsApp the word NEWS to +2349034642498
'Dries had always been an external striker and everybody thinks by necessity he reached a very high level. Dries improved with me but he started at a lower level than Hazard.'