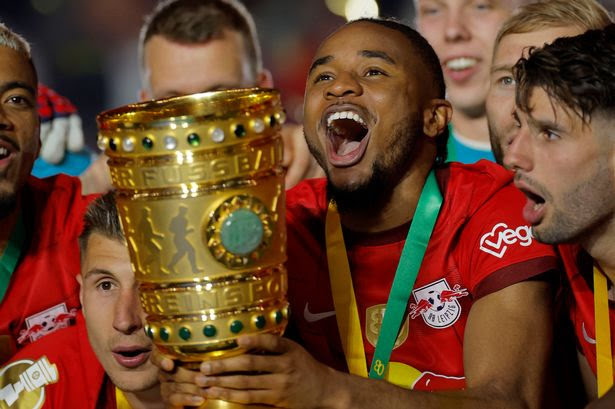 Christopher Nkunku has sent an emotional farewell message to RB Leipzig after his transfer to Chelsea was finally confirmed.
After completing his international duty for the campaign with France, Nkunku was announced as a new player for Mauricio Pochettino, months after agreeing to move to the club.




Having carried out a medical with Chelsea after the close of the summer window last year, the Bundesliga top scorer for 2022/23 is now on his way to Stamford Bridge to partner with Pochettino ahead of the new season.
In a message to the fans appearing on Chelsea's website, Nkunku wrote: "I am incredibly happy to be joining Chelsea. A big effort was made to bring me to the club and I am looking forward to meeting my new coach and teammates and showing the Chelsea supporters what I can do on the pitch.

"Having played in Ligue 1 and the Bundesliga, I now want to play in the Premier League, one of the strongest leagues in the world. I am very excited for this challenge and will be proud to wear the Chelsea shirt."
Now, after four years in Leipzig, Chelsea have received a message from the club. In a post on Instagram, RB Leipzig wrote: "From the Red Bulls [red circle emoji] to the Blues! [blue circle emoji]."
Also, the Red Bull gaming group responded: "All the best for you, Christo [sad face emoji, red heart emoji]," and also, "Don't want to like this post [crying emoji]." Red Bull football said: "Thanks for all the goals [red heart emoji]. All the best in your new chapter."
The club also posted an image of the player doing his celebration with a balloon being blown up. They also posted another message: "Pure baller [football emoji]. Good luck @Chelseafc." Red Bull football then responded: "Unique player."

A third post of Nkunku was also sent with a video of his moments as a player. It starts with his announcement video as he says: "I'm Christopher Nkunku, I am happy to be in Leipzig." It also adds in a message of him saying: "I came to Leipzig as a young talent with big goals and high hopes. With RB Leipzig I grew, I became a better player, I became a better person, I made friends, I found a family.
"We challenged the biggest clubs in the world. It's been a time full of success and in the end we wrote history. Thank you for everything."
The Frenchman also added in a video posted on the club's story: "Hi fans, I wanted to say thank you, I will miss you and I love you from the bottom of my heart."
In a final farewell to the club, he wrote: "After 4 years under the colors of the @rbleipzig it's time for me to say goodbye.
"I will never forget all those incredible moments and emotions that we lived together. From our Champions League semi-final, to our two titles in DFB Pokal, and also some incredible bundesliga matches.
"I will take all these wonderful memories with me and I can't thank you enough for the love you have shared with me. I would also like to thank my teammates, the staff members and all the people who make this club live.
"I have grown a lot here as a player, but also as a man, and I will always be grateful to you."