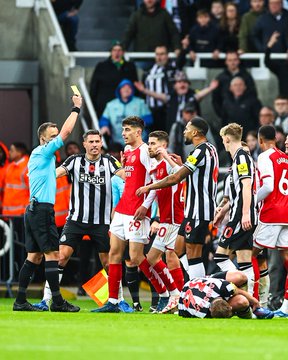 The Independent Key Match Incidents Panel of the Premier League has determined that the match officials committed two errors during the controversial Arsenal vs. Newcastle match at St James' Park last weekend.
Mikel Arteta, the manager of Arsenal, expressed strong dissatisfaction in a post-match rant, deeming the decision to permit Anthony Gordon's crucial second-half goal as 'embarrassing.'
Despite three separate VAR reviews of Gordon's goal, it was allowed to stand without conclusive evidence of the ball going out of play. Furthermore, there was no available camera angle to confirm whether the England Under-21 international was in an offside position when the ball landed.
In contrast, Joelinton was not penalized for fouling Gabriel, despite visibly placing two hands on the Arsenal defender's back and seemingly pushing him down.
ESPN, having reviewed the panel's findings, supports the officiating team's decision to allow the goal with a 4-1 vote. They argue that although Joelinton had his hands on Gabriel, there was insufficient evidence to award a foul, as Gabriel had initiated a ball-playing action before any contact.
However, the panel contends that the officials erred in not issuing red cards to Kai Havertz and Bruno Guimaraes for serious offenses.
Arsenal's German midfielder Havertz received only a caution for a reckless challenge that sent Sean Longstaff airborne. Meanwhile, Bruno avoided punishment despite planting his forearm in Jorginho's face.
This ruling was promptly dismissed by Jamie Carragher, who expressed concern that too many games are losing their appeal due to unnecessary red cards.
He wrote on Twitter: 'A red card used to feel like a big deal, now it feels like there is one or close to one in every game. It's not right, it ruins the game. What people think should be red now means it'll only get worse.
'You don't eradicate poor challenges because because you dish out a red to someone because he nearly caught someone. The Havertz challenge comes from a player losing his head & because of the emotion of the game those instances will never change.
'If someone commits a bad challenge get him off, but it's going too far now.'