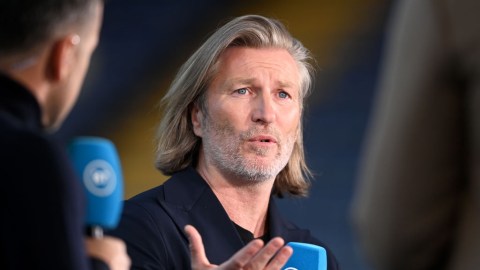 Robbie Savage has revealed his Premier League top-four prediction and sent a warning to Arsenal and Liverpool they are in danger of missing out on Champions League place.
Last season's top-four included champions Manchester City, runners-up Arsenal, third-placed Manchester United and fourth-placed Newcastle.
Liverpool, Tottenham and Chelsea all endured disappointing campaigns to varying degrees but are expected to improve ahead of the 2023-24 campaign.
Savage expects Chelsea to improve under new head coach Mauricio Pochettino to secure a top-four spot, after the club finished just 12th last season.
If Chelsea challenge for Champions League places, clubs like Arsenal, United and Newcastle will face greater competition at the top of the table.
And Savage says there is a possibility Arsenal, who almost won their first league title since 2004 last season, could drop out of the top-four, though he has predicted they will edge out Liverpool to qualify for the Champions League.
'I think Chelsea could get into the top four,' the former Premier League star and Wales midfielder told Star Sports.
'You look at Newcastle and Arsenal who have Champions League football – yes, Arsenal have made three big signings – but I think Chelsea could get it.
'I think with the way Mauricio Pochettino can improve players and the fact they have no European football, which is huge, could play a big factor.
'For me, it's between Arsenal and Liverpool [for who misses out]. Arsenal have improved as well. The big one for me is Liverpool, especially if they continue to play that high line. They were beatable last year and didn't have a great season.
'If you're looking at it now, I'd say Manchester City, Arsenal, Manchester United and Chelsea.'