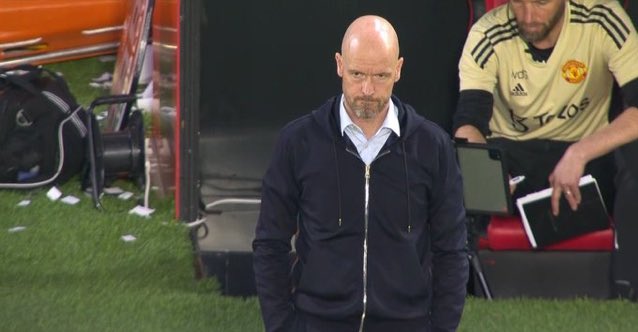 Erik ten Hag agreed that David de Gea produced a 'terrible' blunder in Sunday's 1-0 defeat at West Ham United.
The Manchester United boss revealed a demand he made to his dressing room after the game as the pressure to secure a top-four Premier League finish continues to intensify.
They have now suffered consecutive defeats for the first time since Ten Hag's opening two games in charge against Brighton and Brentford.
And De Gea was culpable for his latest nightmare error for Said Benrahma's winning goal in the first half of the clash.




The Spaniard was caught off guard by Benrahma's effort from range, allowing the ball to trickle past him.
After the game, Ten Hag agreed that De Gea's error was 'terrible' but said the team has to take responsibility for the result.
He told BT Sport: "Yes [it was a terrible mistake], but it's about individuals. Mistakes are part of football, and then as a team, you have to deal with it.
"You have to bounce back because it's a team sport. And as you said, over the season, he's the one [goalkeeper] with the most clean sheets.
"Also, we did it as a team, but that can happen. It's part of football. Everyone has to take responsibility, but more importantly, as a team, get the result."
But Ten Hag explained that he was still confident that United could rediscover their winning form and hold on to Champions League qualification next campaign.
"That's what I just said in the dressing room," Ten Hag responded when asked whether he was still upbeat about United's top-four hopes.
"'Come on. It can happen. We've shown this season we've had terrible setbacks, but every time you bounce back. So, once again, show the character and go on."