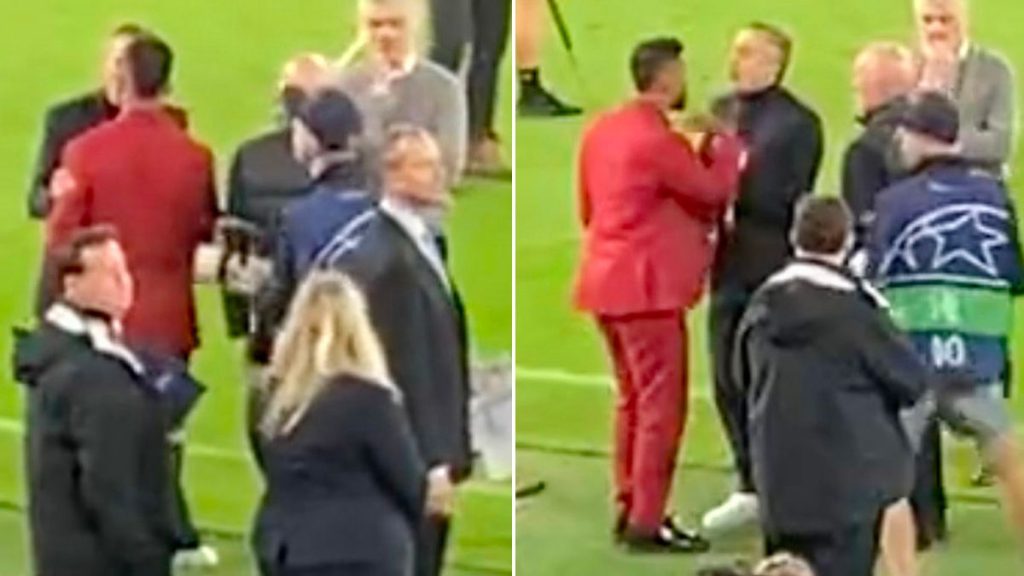 Manchester United legend Patrice Evra was involved in an altercation with Manchester City staff as their players celebrated reaching the UEFA Champions League final.
Evra decked out in a red suit to display his allegiance, he had to be calmed down by Guardiola's assistant Manel Estiarte at the end of the match.




Evra, who was pitchside in his role as a pundit for French TV, was held by Estiarte, who appeared to be trying to reason with the former United defender, who was visibly agitated by what he was saying.
As Man City's players embarked on their lap of honour, saluting the home supporters, the incident with Evra played out, just outside the home technical area.
City security staff stepped in to ensure the altercation did not get beyond control, although Evra and Estiarte shook hands before they parted ways, which means they settled their issue.
Evra's choice of outfit was deliberate, complete with red tinted spectacles. Ferdinand posted a video of Evra in his red suit on social media with the caption: "Surprise surprise, my man Evra turning up to the Etihad in a RED suit" followed by laughing emojis.

That was not the only subplot involving a former United star at the Etihad. Ferdinand, working at the game as a pundit for BT Sport, revealed Guardiola texted him a few hours before the match, predicting how City would beat Real Madrid.
How I Earn $100 In A Day With Crypto Trading
Speaking on BT Sport after the game, Ferdinand said: "Pep Guardiola texted me today saying, 'Believe me, we'll beat them'. The confidence to say that two or three hours before the game!"




As he left the pitch after celebrating with his players, Guardiola spotted Ferdinand and pointed at him repeatedly, as if to say 'I told you so!' before going to the tunnel.
Comparisons will now be drawn with Sir Alex Ferguson's famous United team from 1999, with City now on the verge of matching their historic treble. City will face Inter Milan in the Champions League final next month, by which point they may have secured the Premier League and FA Cup.
The Premier League title can even be wrapped up this weekend with a victory over Chelsea, while the Red Devils will stand in their neighbours' way at Wembley at the start of June.