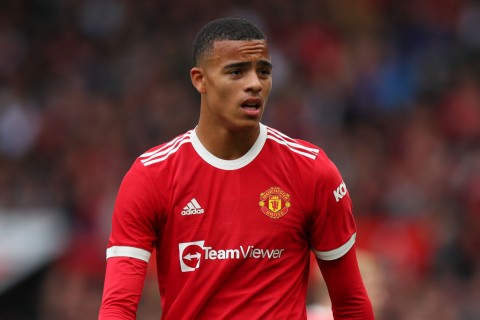 Mason Greenwood is ready to make a transfer to Asia to restart his football career if Manchester United sack him after their investigation, according to reports.
On Thursday, the Crown Prosecution Service (CPS) confirmed that the charges of attempted rape, controlling and coercive behaviour and one count of assault had been dropped against the forward.




A spokesperson for the CPS said that a key witness had withdrawn which, coupled with new material coming to light, which meant there was 'no longer a realistic prospect of conviction'.
Greenwood was arrested in January of last year and has not played for the club since then, with the Red Devils now carrying out their internal investigation to decide the steps they will take.
The 21-year-old will not train or play for United while that 'process' is carried out and there would likely be a huge backlash if he was welcomed back into the first-team.
Now The Sun report Greenwood feels he may not be able to play at Old Trafford or indeed any club in England due to the reaction he would receive and is ready to go far afield to resume playing football.




But, a source close to the player claims he could be willing to play in China and would be wary of playing for United again even if he was welcomed back, having felt they provided very little support when he was arrested.
The source told The Sun: 'At the time he was adamant he didn't want to put on the red shirt again. He felt like the club didn't stand by him.

'He said he would be happy to go and play in China as long as that meant he was getting paid well and was playing. His view may have softened over the last few months, but he was not happy at all.'
It is also reported that Greenwood believes he would struggle emotionally to deal with the abuse he would receive from opposition supporters if he played again in England.
Another report from The Guardian claims staff at United are 'split' over whether he should be allowed to resume his career at Old Trafford, with many unhappy at the prospect of Greenwood returning – though others feel they have a 'duty of care' toward the player who joined the club academy at the age of seven.
Greenwood released a statement after the charges were dropped, saying: 'I am relieved that this matter is now over and I would like to thank my family, loved ones and friends for their support. There will be no further comment at this time.'




Meanwhile, Erik ten Hag rebuffed questions at a press conference on Friday. 'I can't give a comment about the process,' he said.
'I can't say anything about it. I refer to the statement of the club and at this moment I can't add anything.'